'Short views' on Fiji coups fail to answer key media questions
Review of The 2006 Military Takeover in Fiji: A coup to end all coups?, edited by Jon Fraenkel, Stewart Firth and Brij V. Lal
Keywords:
armed conflict, conflict reporting, ethnic conflict, Fiji coups, political journalism, identity politics, geopolitics, George Speight
Abstract
The first premier of the People's Republic of China, Zhou Enlai (1949-1976), when asked about the impact of the late eighteenth century French Revolution, supposedly responded that it was too early to tell. Apocryphal or not, his 'long view' always needs to be borne in mind when trying to evaluate recent events, including the 2006 coup in Fiji. In the meantime however, 'short views' will continue to be made and this collection of essays by 24 contributors forms part of that process.
The 2006 Military Takeover in Fiji essays are also partisan, seking to affect what occurs in Fiji. The collection is framed largely around the spurious premise that there are only two defensible positions, either for or against the current military regime. 
Downloads
Download data is not yet available.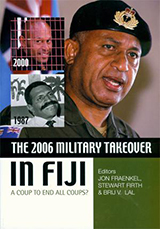 How to Cite
MacWilliam, S. (2010). 'Short views' on Fiji coups fail to answer key media questions: Review of The 2006 Military Takeover in Fiji: A coup to end all coups?, edited by Jon Fraenkel, Stewart Firth and Brij V. Lal. Pacific Journalism Review : Te Koakoa, 16(1), 213-215. https://doi.org/10.24135/pjr.v16i1.1020
Copyright (c) 2010 Pacific Journalism Review
This work is licensed under a Creative Commons Attribution-NonCommercial 4.0 International License.