Watching this space, West Papua
Keywords:
bureaucracy, Indonesia, journalism, media freedom, Melanesia, Melanesian Spearhead Group, New Guinea, police, West Papua
Abstract
COMMENTARY: President Joko Widodo's announcement in May 2015 that Indonesia would allow foreign journalists to have access to West Papua was widely, but cautiously, welcomed. Some journalists decided to have another attempt at getting into this region, long cordoned off to outside access. The labyrinthine process of applying for a journalist visa was a warning that change does not happen overnight for West Papua media freedom. On the ground, it is a risky business for a journalist covering West Papua. Local independent journalists, especially, face regular threats. The attackers are empowered by the knowledge that there is no formal accountability processes over intimidation and the murder of journalists or media workers. However, there appears to be a genuine hope that President Jokowi's term in office represents a small window of opportunity for improvement for Papua. The handling of journalists and media freedom in West Papua is very much a test case for this. Watch this space.
Downloads
Download data is not yet available.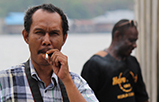 How to Cite
Blades, J. (2016). Watching this space, West Papua. Pacific Journalism Review : Te Koakoa, 22(1), 13-24. https://doi.org/10.24135/pjr.v22i1.10
Copyright (c) 2016 Johnny Blades
This work is licensed under a Creative Commons Attribution-NonCommercial 4.0 International License.