Social justice research network now publishing Pacific Journalism Review
27-06-2022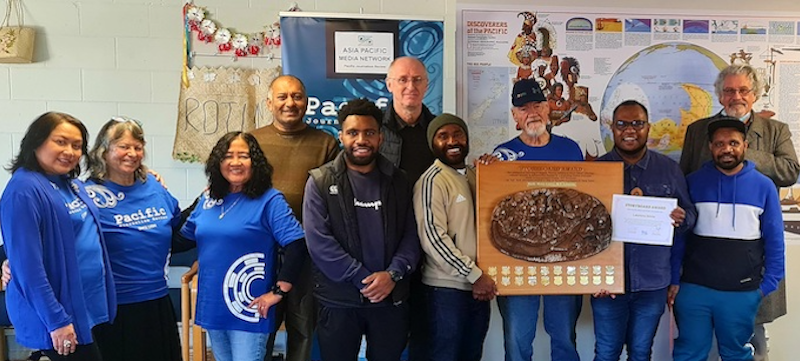 Asia Pacific Media Network members and Papuan students share the success of Laurens Ikinia (holding the certificate). Image: Del Abcede/PJR

A new Asia Pacific social justice research and publication nonprofit has taken on the role of publishing Pacific Journalism Review.
The interim chair of the Asia Pacific Media Network | Te Koakoa Incorporated (APMN) and founding editor of PJR, Dr David Robie, announced this while presenting the annual Storyboard Award to West Papuan postgraduate communication studies student Laurens Ikinia for his advocacy work during the COVID-19 pandemic in 2020 when he "raised the profile" of the tiny Papuan community in Aotearoa New Zealand with many articles.
"His efforts have gone from strength to strength combining the skills of journalism and as a communications advocate," he said at the ceremony in the Whānau Community Hub in Mt Roskill.
"Laurens Ikinia has done West Papua proud, and we're also very proud of his work."
The Storyboard Award was first created in 2006 with the first winner being Qiane Matata-Sipu, creator of
Nuku: Stories of 100 Indigenous Women
. Other winners have included John Pulu of
Tagata Pasifika;
Alex Perrottet, formerly of RNZ; Sri Krishnmurthi of
Pacific Media Watch;
and Alistar Kata and Blessen Tom of TVNZ's
Fair Go
.
The APMN, formally founded in early June, was established to continue publication of PJR, first launched at the University of Papua New Guinea in 1994 and published in recent years at the University of the South Pacific then Auckland University of Technology.
The network's objectives also include providing resources to benefit "First Nations and other communities, and in support of fair representation for voiceless and diverse community interests".
Gathered at the ceremony were academics, researchers, community advocates and journalists — including several stalwarts of the former Pacific Media Centre — and also "wantok" supporters of Ikinia.
A spokesperson for the Whānau Hub, Nik Naidu, said it was "exciting to be working with like-minded groups committed to social justice".
"It certainly feels as if we are part of an important initiative — it's a privilege to be part of such an inclusive and welcoming community," said Dr Heather Devere, one of the network members.
PJR editor Dr Philip Cass said it was encouraging that the 28-year-old journal now had a new home and his editorial team were busy working on the next edition due out next month.
The edition features a series of articles on Asian media, culture and change, an ethnographic portfolio on the kava culture, and special reports on disinformation and New Zealand's unprecedented 23-day Parliament protest earlier this year.
PJR is published in association with AUT's Tuwhera digital research platform.
Full report on the Storyboard Award