Transcendence
An exploration of collage as a voice for non-binary gender identity - [Short form summary]
Ezra Baldwin

Auckland University of Technology
Keywords:
Non-Binary, Queer Collage, Queer Lens, Transgender
Downloads
Download data is not yet available.
References
Belton, P., & Citron, L. (2016). The politics of the kiss. The New Statesman. https://www.newstatesman.com/politics/2016/02/politics-kiss
Burton, N. (2017). Gender fluidity in the gods and what it might mean. Psychology Today. https://www.psychologytoday.com/us/blog/hide-and-seek/201707/gender-fluidity-in-the-gods
Darwin, H. (2017). Doing gender beyond the binary: A virtual ethnography. Symbolic Interaction, 40(3), 317–334. JSTOR.
Ellis, C., & Bochner, A. (2000). Autoethnography, personal narrative, reflexivity: Researcher as subject. The Handbook of Qualitative Research, 2nd Edition, 733–768. https://www.researchgate.net/publication/254703924_Autoethnography_Personal_Narrative_Reflexivity_Researcher_as_Subject
Halberstam, J. (2011). The queer art of failure. In The queer art of failure. Duke University Press. https://www.ikhtyar.org/wp-content/uploads/2014/06/Halbersatm-Judith-The-Queer-Art-of-Failure.pdf
Lee, J. A. (1973). Colours of Love: An Exploration of the Ways of Loving. New Press. https://books.google.co.nz/books?id=5g4RAQAAIAAJ
Mark, H. W. (2022). Zagreus. World History Encyclopedia. https://www.worldhistory.org/Zagreus/
Rivas, J. (2015, April 30). Why this artist is putting religious halos around his queer subjects [New and Articles]. Splinter. https://splinternews.com/why-this-artist-is-putting-religious-halos-around-his-q-1793847487
Webb, J., & O'Brien, D. (2008). ' Agnostic' thinking: Creative writing as practice-led research. Working Papers in Art and Design. http://sitem.herts.ac.uk/artdes_research/ papers/wpades/vol5/jwdobfull.html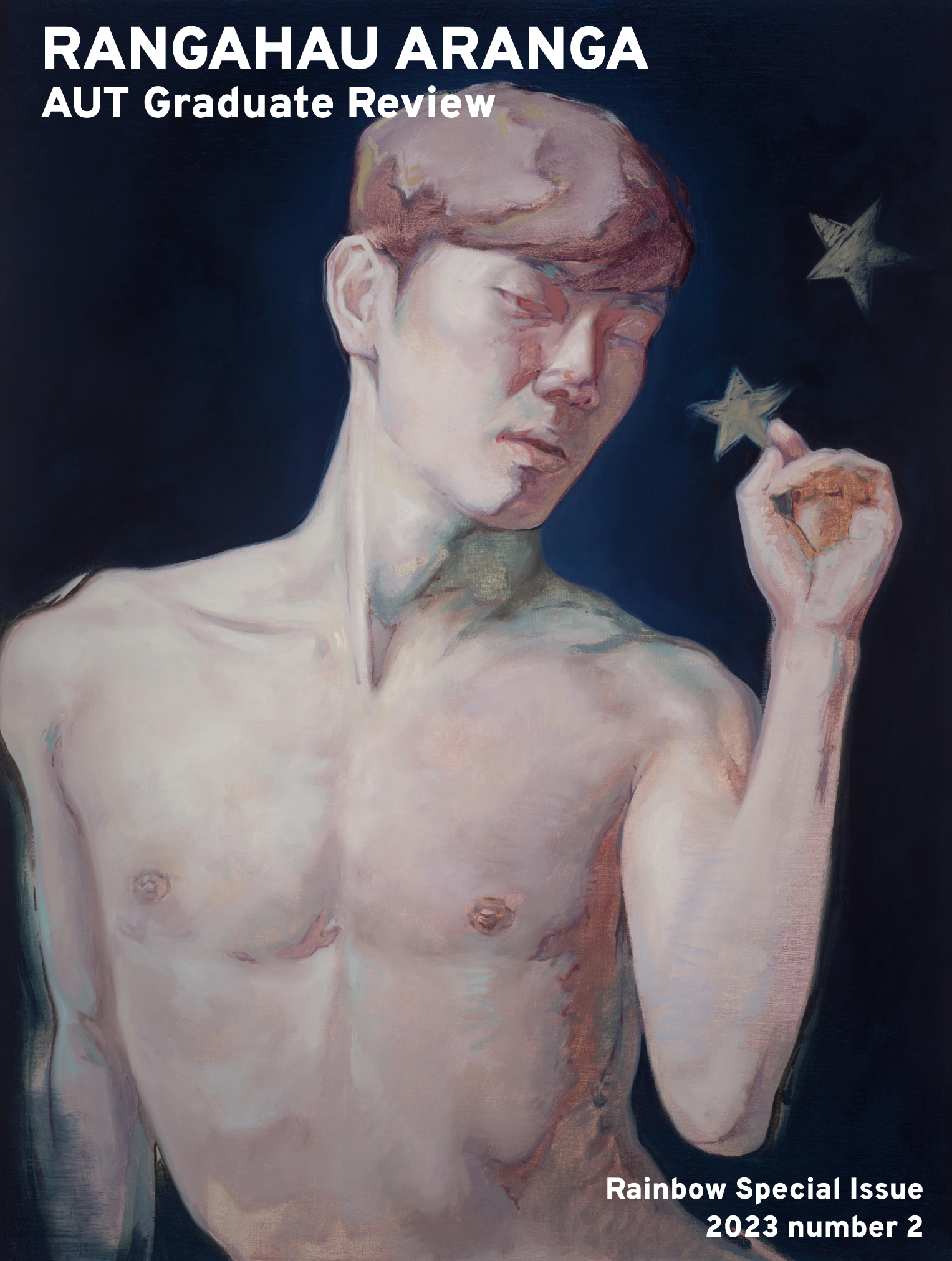 How to Cite
Baldwin, E. (2023). Transcendence : An exploration of collage as a voice for non-binary gender identity - [Short form summary]. Rangahau Aranga: AUT Graduate Review, 2(2). https://doi.org/10.24135/rangahau-aranga.v2i2.158
Section
Research Summaries
Copyright (c) 2023 Ezra Baldwin
Article text:
This work is licensed under a Creative Commons Attribution 4.0 International License.
Photos:
The images in Rangahau Aranga are not covered by the Creative Commons license and are subject to copyright. Permission to reproduce this material must be sought from the copyright holder concerned.