A short form summary of Takatāpui Beyond Marginalisation: Exploring Māori Gender, Identity and Performance.
Tangaroa Paora

Muriwhenua
Keywords:
Gender Indentity, Irarere, Performance, Takatāpui tāne
Downloads
Download data is not yet available.
References
Irarere, (2021). Te Aka: Online Māori Dictionary. https://maoridictionary.co.nz/search?idiom=&phrase=&proverb=&loan=&histLoanWords=&keywords=irarere
Pihama, L., Cram, F., & Walker, S. (2002). Creating methodological space: A literature review of Kaupapa Maori research. Canadian Journal of Native Education, 26(1). https://www.researchgate.net/profile/Fiona-Cram/publication/234647374_Creating_Methodological_Space_A_Literature_Review_of_Kaupapa_Maori_Research/links/5c354a6692851c22a366072d/Creating-Methodological-Space-A-Literature-Review-of-Kaupapa-Maori-Research.pdf
Pouwhare, R. (2020). Ngā Pūrākau mō Māui: mai te patuero, te pakokitanga me te whakapēpē ki te kōrero pono, ki te whaihua whaitake, mē ngā honotanga. The Māui Narratives: From Bowdlerisation, Dislocation and Infantilisation to Veracity, Relevance and Connection. [Doctoral thesis, Auckland University of Technology]. Tuwhera, http://hdl.handle.net/10292/13307
Tīwhanawhana Trust (2017). Takatāpui – A resource hub. https://takatapui.nz/definition-of-takatapui#takatapui-meaning
Tavares, T. & Ings, W. (2018). Navigating artistic inquiry in a creative-production thesis: the narrative and illustrative potentials of realismo maravilhoso. Journal of Art, Design and Technology [DAT], 3(2), 9-42. https://www.researchgate.net/publication/333073607_Transitando_pela_investigacao_artistica_em_uma_tese_de_producao_criativa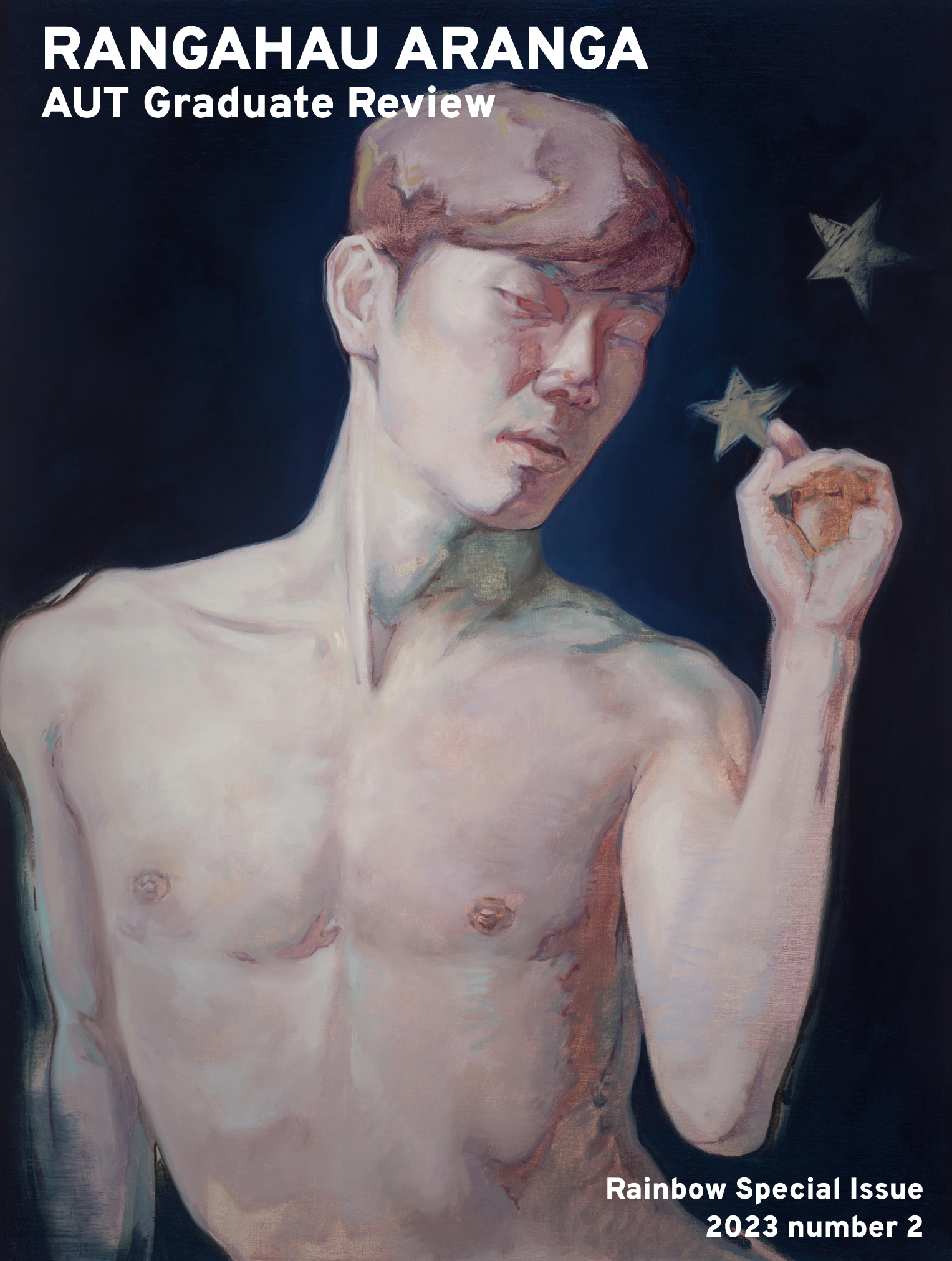 How to Cite
Paora, T. (2023). A short form summary of Takatāpui Beyond Marginalisation: Exploring Māori Gender, Identity and Performance. Rangahau Aranga: AUT Graduate Review, 2(2). https://doi.org/10.24135/rangahau-aranga.v2i2.146
Section
Research Summaries
Copyright (c) 2023 Tangaroa Paora
Article text:
This work is licensed under a Creative Commons Attribution 4.0 International License.
Photos:
The images in Rangahau Aranga are not covered by the Creative Commons license and are subject to copyright. Permission to reproduce this material must be sought from the copyright holder concerned.