REVIEW: Exposing the US nuclear test legacy in the Marshall Islands
Review of: News Zero: The New York Times and The Bomb, by Beverly Ann Deepe Keever
Keywords:
censorship, environmental journalism, nuclear weapons, political journalism, reviews
Abstract
The world's worst nuclear reactor accident occurred in late April 1986 at Chernobyl, in the Ukraine. Hundreds of thousands of people and millions of square miles of land were contaminated by radioactive fallout spewed from the reactor meltdown. But, in spite of great efforts by the government of the then Soviet Union to cover up and minimise the extent of this disaster, within days people and governments across Europe and, indeed, around the world were glued to their television sets or pouring over newspaper accounts of this unfolding tragedy.
Downloads
Download data is not yet available.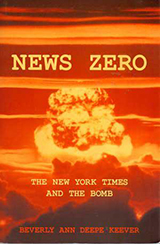 How to Cite
Johnson, G. (2006). REVIEW: Exposing the US nuclear test legacy in the Marshall Islands: Review of: News Zero: The New York Times and The Bomb, by Beverly Ann Deepe Keever. Pacific Journalism Review : Te Koakoa, 12(2), 188-191. https://doi.org/10.24135/pjr.v12i2.871
Copyright (c) 2006 Pacific Journalism Review
This work is licensed under a Creative Commons Attribution-NonCommercial 4.0 International License.