Drawing fire without a cartoonist's flak jacket
Keywords:
cartoonists, war reporting
Abstract
How would I like to be an embedded cartoonist? Not one little bit. I believe passionately in the idea of cartoon reportage, but not at my age, and certainly not in the present circumstances with the military breathing down my neck. Don't get me wrong — I would love to hurl myself into foxholes and I really enjoyed the only time I have been paintballing. But I fear this would be paintballing with extreme prejudice — and just imagine the indignity of being at the beck and call of nuclear-powered wankers like Air Marshall Bertrand Bollocks or whatever his name is.
Downloads
Download data is not yet available.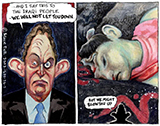 How to Cite
Bell, S. (2003). Drawing fire without a cartoonist's flak jacket. Pacific Journalism Review : Te Koakoa, 9(1), 19-21. https://doi.org/10.24135/pjr.v9i1.751
Copyright (c) 2003 Pacific Journalism Review
This work is licensed under a Creative Commons Attribution-NonCommercial 4.0 International License.