Iraq, the Pentagon and the battle for Arab hearts and minds
Iraq and the media war
Keywords:
culture, Islam, media ethics, media responsibility, truth, war correspondence, war reporting
Abstract
Two months after 'liberating' Iraq, the Anglo-American authorities in Baghdad decided to control the new and free Iraqi press. Newspapers that publish 'wild stories', material deemed provocative or capable of inciting ethnic violence, are being threatened or shut down. A controlled press is a 'responsible press — just what Saddam Hussein used to say about the press his deposed regime produced. In this edition of Pacific Journalism Review, essays by media commentators present several perspectives on the war and its aftermath. Patrick Ensor gives an overview, Louise Matthews provides media context for the war, John Pilger challenges journalists, Mohamed Al-Bendary profiles the pan-Arab satellite boom, and Alastair Thompson and Russell Brown examine the New Zealand media connection. Cartoonists Steve Bell (The Guardian) and Deven (Le Mauricien) add their views. Critical of the 'embedded' media, Bell laments: 'There's never been a more dangerous time to be a journalist at war.'
Downloads
Download data is not yet available.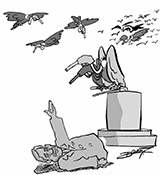 How to Cite
Ensor, P. (2003). Iraq, the Pentagon and the battle for Arab hearts and minds: Iraq and the media war. Pacific Journalism Review : Te Koakoa, 9(1), 8-13. https://doi.org/10.24135/pjr.v9i1.749
Copyright (c) 2003 Pacific Journalism Review
This work is licensed under a Creative Commons Attribution-NonCommercial 4.0 International License.