Standoff in Papua New Guinea: Students take issue over corruption
Emily Matasororo

University of Papua New Guinea
Keywords:
corruption, education, Papua New Guinea, press freedom, protest
Abstract
Commentary: A widespread student national boycott of classes and protests against the government of Peter O'Neill in Papua New Guinea during May and June 2016, supported by many civil society groups and activists. The epicentre of these protests was the University of Papua New Guinea (UPNG) in the nation's capital, Port Moresby. Demonstrations stirred by allegations of corruption against Prime Minister O'Neill grew in intensity until police opened fire on peaceful protesters on June 8. The protests were largely organised by the elected UPNG Student Representative Council, which entered into alliances with other tertiary student bodies, especially at the University of Technology in Lae, and civil society groups such as UPNG Focus and the Community Coalition Against Corruption. The essential argument of the students was that instead of thwarting investigations into allegations that $30 million of fraudulent legal bills were paid to the legal firm Paraka Lawyers, O'Neill should resign from office and present himself to the police investigators for questioning as they had demanded. This article focuses on the student leadership's role and critiques the coverage of two major national press outlets, the PNG Post-Courier and The National, leading to the temporary shutdown of the university. It argues that there were issues of ethics and integrity at stake with both students and the news media.
Downloads
Download data is not yet available.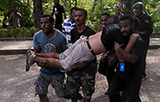 How to Cite
Matasororo, E. (2016). Standoff in Papua New Guinea: Students take issue over corruption. Pacific Journalism Review : Te Koakoa, 22(2), 13-19. https://doi.org/10.24135/pjr.v22i2.71
Copyright (c) 2016 Emily Matasororo
This work is licensed under a Creative Commons Attribution-NonCommercial 4.0 International License.