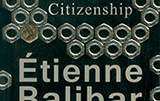 REVIEW: Can democracy and citizenship be reclaimed?
Abstract
Citizenship
. Etienne Balibar. Cambridge: Polity Press. 2015. ISBN-13:978-0-7456-821-9 (pb)
IN LIGHT of recent world events, Pacific Island democracy issues and various articles exploring the concept that democracy is under threat, leading philosopher Étienne Balibar's book Citizenship is a timely publication. The book is a collection of seven lectures, many printed as individual essays, first published as a collection in the original 2012 Italian edition.
Keywords
Key words - democracy; citizenship; equality; liberty; neoliberal; political philosophy .
Refbacks
There are currently no refbacks.
---
This work is licensed under a Creative Commons Attribution-NonCommercial-NoDerivatives 4.0 International License.