Exposé through music of media ignorance of West Papua
Abstract
Reviewed documentary/ feature film directed by Charlie Hill-Smith Publication date: October, 2011
As the songman of freedom lies dying from an Indonesian bullet, his spirit spawns a great tree of life, feeding the irrepressible spirit of West Papuan liberation. The Birds of Paradise, for so long held prisoner by the Java warlord demons of destruction, pillage and brutality—sing for life, and fly to freedom.
This beautifully illustrated animation sequence epitomises the West Papuan desire for simple survival, an assertion that West Papuan people are the custodians of a true paradise that the Indonesian military mafia has turned into a hell on earth. Combining one of the oldest musical traditions of Earth, and inspired by the liberation music of West Papua's executed poet laureate Arnold Ap, the groundbreaking film Strange Birds in Paradise shows the spirit of West Papuan resistance is alive and building, and refusing to accept more than 45 years of brutal occupation by Indonesia.
Downloads
Download data is not yet available.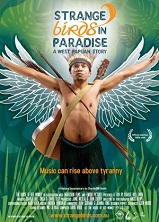 How to Cite
Chesterfield, N. (2011). Exposé through music of media ignorance of West Papua. Pacific Journalism Review : Te Koakoa, 17(2), 223-227. https://doi.org/10.24135/pjr.v17i2.361
Copyright (c) 2011 Nick Chesterfield
This work is licensed under a Creative Commons Attribution-NonCommercial 4.0 International License.