Special report: Global capital and media communication ownership in New Zealand
Abstract
This article identifies recent developments in the ownership and management of New Zealand media institutions since Bill Rosenberg's 2009 article in Pacific Journalism Review. New Zealand is enmeshed within global capitalism; a reality which shapes contemporary ownership patterns. Often the media ownership discussion in New Zealand is centred on media moguls, but they are answerable to their investors, shareholders, international investment banks, fund managers and venture capitalists whose primary objective is to maximise profit rates. New Zealand media corporations treat news as a commodity and news organisations as revenue generators. Consequently, public media space is shrinking as the practice of journalism declines.
Downloads
Download data is not yet available.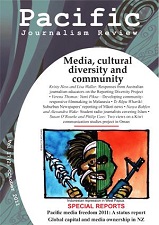 How to Cite
Myllylahti, M. (2011). Special report: Global capital and media communication ownership in New Zealand. Pacific Journalism Review : Te Koakoa, 17(2), 188-209. https://doi.org/10.24135/pjr.v17i2.357
Copyright (c) 2011 Merja Myllylahti
This work is licensed under a Creative Commons Attribution-NonCommercial 4.0 International License.