REVIEW: A real inspiration for the next generation of NZ journalists
Louise Matthews

Auckland University of Technology Auckland
Keywords:
investigative journalism, New Zealand, reviews
Abstract
A Moral Truth: 150 years of Investigative Journalism in New Zealand, edited by James Hollings. Auckland: Massey University Press. 2017. 448 pages. ISBN: 978-0-9941-4158-3
TWO executions 40 years apart; the country's worst aviation disaster; people wrongly imprisoned; the plight of tenants in slum housing; the pollution of our waterways; health scandals resulting in deaths; corporate scandals, sometimes likewise; and so much more. They are all examples of the investigative journalism to be found in this book, in fact 33 fascinating examples.
Downloads
Download data is not yet available.
References
Starkman, D. (2014). The watchdog that didn't bark: The financial crisis and the disappearance of investigative journalism. New York, NY: Columbia University Press.

Usher, N. (2014). Dean Starkman: The watchdog that didn't bark [Review]. International Journal of Communication, 8(5).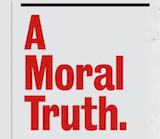 How to Cite
Matthews, L. (2017). REVIEW: A real inspiration for the next generation of NZ journalists. Pacific Journalism Review : Te Koakoa, 23(2), 217-219. https://doi.org/10.24135/pjr.v23i2.345
Copyright (c) 2017 Louise Matthews
This work is licensed under a Creative Commons Attribution-NonCommercial 4.0 International License.