REVIEW: A thoughtful approach to teaching media
Alan Cocker

Auckland University of Technology
Keywords:
curriculum, digital media, globalisation, media education, media industries, media studies, media theory, reviews
Abstract
Reinventing the Media, by Graeme Turner. London: Routledge. 2015. 158 pages. ISBN 978-1-138-02070-2
AS A member of a School of Communication Studies seeking to refresh its curricula, the publication of Graeme Turner's book Re-Inventing the Media is very timely. According to the publishers, Turner 'takes on the task of rethinking how media studies approaches the whole of the contemporary mediascape.' This statement should not lead the reader to expect that Turner is arguing for a root and branch overturning of how we approach and teach the media. Instead. it can be argued that this is rather a sober 're-think' that seeks to address both the elements of change and continuity in teaching communication or media studies today.
Downloads
Download data is not yet available.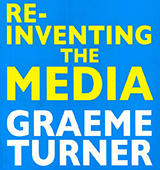 How to Cite
Cocker, A. (2017). REVIEW: A thoughtful approach to teaching media. Pacific Journalism Review : Te Koakoa, 23(1), 272-273. https://doi.org/10.24135/pjr.v23i1.321
Copyright (c) 2017 Alan Cocker
This work is licensed under a Creative Commons Attribution-NonCommercial 4.0 International License.