REVIEW: An important book for young journalism academics
Keywords:
academic journalism, analysis, exegesis, habitus, investigative journalism, journalism, methodology, research, scholarship
Abstract
What is Journalism? The Art and Politics of a rupture, by Chris Nash. London: Palgrave Macmillan. 2016. 247 pages. ISBN 978-1-137-39933-5

CHRIS NASH wrestles with ideas with rare intensity. His new book What is Journalism takes something so familiar to us, journalism, and peels back layer after layer of assumptions about what makes it singular and distinctive and what gives it parity with the other academic disciplines. More importantly though this book is a how-to guide for best-practice journalists and journalism academics looking for a lexicon to describe journalism work in a methodological way.
Downloads
Download data is not yet available.
References
Lamble, S. (2004). Documenting the methodology of journalism. Australian Journalism Review, 26(1), pp. 85-106.

Tuchman. G. (1978), Making news: A study in the construction of reality. New York: The Free Press.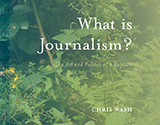 How to Cite
Davies, K. (2017). REVIEW: An important book for young journalism academics. Pacific Journalism Review : Te Koakoa, 23(1), 263-265. https://doi.org/10.24135/pjr.v23i1.318
Copyright (c) 2017 Kayt Davies
This work is licensed under a Creative Commons Attribution-NonCommercial 4.0 International License.