FIJI: Media freedom in Fiji: Journalism challenges facing Wansolwara, an independent, campus-based newspaper
Eliki Drugunalevu

Irene Manarae
Keywords:
censorship, Fiji, Fiji coups, journalism education, media freedom, press freedom, student press, university media, University of the South Pacific, Wansolwara,
Abstract
This article is a case study of Wansolwara, the University of the South Pacific (USP) journalism programme student training newspaper. The article compares the outcomes of Wansolwara's coverage of the 2000 and 2006 Fiji coups in relation to student learning and an alternative media voice in a climate of restrictions. Interviews with student journalists and lecturers involved in the coup coverage indicate that Wansolwara's status as a campus-based newspaper has been a strategic benefit in filling some gaps in mainstream media reporting, besides providing students with empowering learning experiences. The case study illustrates the importance of an independent, campus-based newspaper somewhat less restrained by commercial pressures and less exposed to direct state coercion.
Downloads
Download data is not yet available.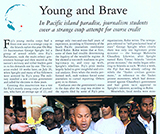 How to Cite
Drugunalevu, E., & Manarae, I. (2015). FIJI: Media freedom in Fiji: Journalism challenges facing Wansolwara, an independent, campus-based newspaper. Pacific Journalism Review : Te Koakoa, 21(1), 151-163. https://doi.org/10.24135/pjr.v21i1.154
Copyright (c) 2015 Eliki Drugunalevu, Irene Manarae
This work is licensed under a Creative Commons Attribution-NonCommercial 4.0 International License.