Cap Bocage: Tracing the militant voice of environmental protest in New Caledonia
Keywords:
armed conflict, documentary, environment, mining, New Caledonia, New Zealand, protest, trauma,
Abstract
This article is an attempt to document some of the filmmaking processes and highlight some of the specific factors that determined the final form of the film Cap Bocage. I see this as an opportunity to outline more personal reflections on process. This article will firstly give context to some of the filmmaking challenges by discussing the idea of the voice of a documentary (Nichols, 2010, p. 256) as it relates to subject matter. Here I will emphasise the idea of a personal approach to story that sometimes runs adjacent to the traditional techniques one may find in more expositional work or in a purely journalistic rendering of the narrative. This article also explores two other works that concern themselves with militant struggle in New Caledonia. One is the feature length drama Rebellion (Kassowitz, 2011) and the other a documentary: Tjibaou le pardon (Dagneau, 2006). While the approach to the history of militancy in the films is different, both works are good examples of the challenges filmmakers face while tracing stories involving conflict or societal trauma.
Image: Florent Eurisouké in a still from Jim Marbrook's 2014 documentary Cap Bocage.
Downloads
Download data is not yet available.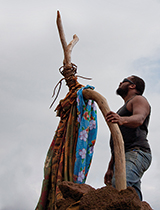 How to Cite
Marbrook, J. (2015). Cap Bocage: Tracing the militant voice of environmental protest in New Caledonia. Pacific Journalism Review : Te Koakoa, 21(2), 110-124. https://doi.org/10.24135/pjr.v21i2.122
Copyright (c) 2015 Jim Marbrook
This work is licensed under a Creative Commons Attribution-NonCommercial 4.0 International License.