Journalism Plus? The resurgence of creative documentary
Keywords:
documentary, human rights, journalism, New Zealand, politics, post-documentary,
Abstract
Over the past two decades, opportunities for 'creative documentary' on television may have diminished, but other distribution options for innovative and engaged films have opened up. A resurgence of cinematic documentary is attracting substantial numbers of viewers who, bored or disillusioned by television's shift to reality programming, are prepared to pay for theatre tickets, while online subscription services such as Netflix and Amazon now stream and fund high-quality documentary. Increasing numbers of filmmakers are self-distributing their works online. A significant percentage of these films, freed from the constraints of broadcast television, take up political challenges because, as Michael Chanan says, documentary has 'politics in its genes' (2008, p. 16). In fact, as mainstream news and current affairs becomes increasingly tabloid, it could be argued that documentary is assuming the role of investigative journalism or, to use Laura Poitras' description, documentary functions as 'Journalism Plus'. This article, at times drawing on my own film practice, attempts to explore these shifts and developments, locating documentary at a time of institutional transformation.
Image: He Toki Huna: SAS Quick Reaction Force in Kabul post a suicide bombing in February 2010. Photo by Lionel de Coninck
Downloads
Download data is not yet available.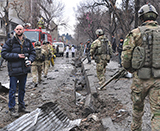 How to Cite
Goldson, A. (2015). Journalism Plus? The resurgence of creative documentary. Pacific Journalism Review : Te Koakoa, 21(2), 86-98. https://doi.org/10.24135/pjr.v21i2.120
Copyright (c) 2015 Annie Goldson
This work is licensed under a Creative Commons Attribution-NonCommercial 4.0 International License.