Asia Pacific Media Network News Updates #2/2023 – 28 February 2023
01-03-2023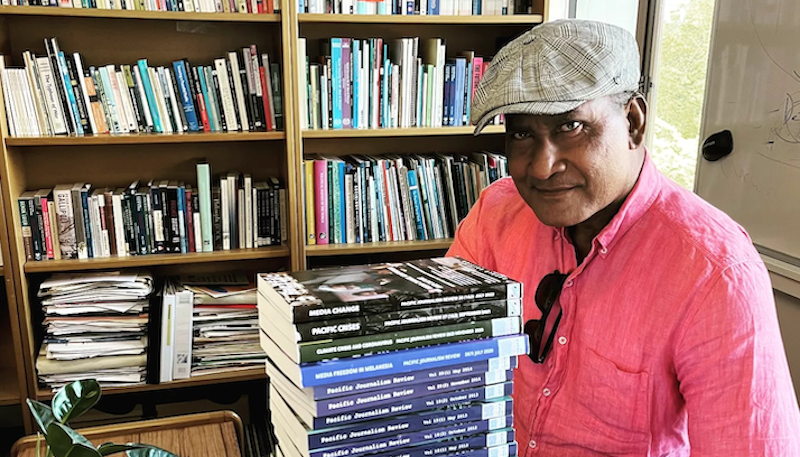 Professor Steven Ratuva, the first Te Amorangi (pro-vice-chancellor Pacific) at Canterbury University with a stack of Pacific Journalism Review editions. Image: UOC

Kia Ora Whānau,

A few quick updates on Asia Pacific Media Network (APMN) and Pacific Journalism Review activities, happenings and future events:

Key upcoming dates:
APMN AGM (date April 14, 2023, TBC)
Submissions for next PJR edition close: March 31, 2023
Publication of next PJR edition: July 2023
Note: Illustrations are on the newsletter PDF. Email the APMN secretary, Khairiah Rahman, if you would like a copy.
1 Professor Steven Ratuva now Te Amorangi, 27 February 2023
Congratulations and vinaka vakalevu to Professor Steven Ratuva, director of the Macmillan Brown Centre of Pacific Studies at the University of Canterbury. Last week he was appointed the university's first Te Amorangi, or pro-vice chancellor Pacific. Yet another achievement for Steve to add to his string of accolades. In the early days of Pacific Journalism Review, while based at the University of the South Pacific, Steve was a contributor to PJR and even known to do cartoons for the journal. Steve is still on the PJR editorial board and a strong supporter of the journal as can be seen in the picture of him with a stack of back copies.
More information: http://bit.ly/3mar7fy  
2 Back copies distributed to media and academic groups, January-February 2023
Talking about back copies of PJR, APMN inherited a heap of previous editions from AUT and after picking them up from the university, David Robie distributed sets to Pacific Media Network (Radio 531pi and Nu FM etc), Radio New Zealand Pacific, Sunpix and Tagata Pasifika, the Whanau Community Hub, as well as Canterbury University's MacMillan Brown Pacific Centre. Nice to know they are appreciated and the copies have gone to good media and academic homes.
Link to the article:  https://bit.l/3kzlozu                                                                                                                               
3 APMN members in and commenting about the media, February 2023
Gavin Ellis continues to make quite a splash with his regular weekly media column on his blog Knightly Views. Several columns at the height of the Great Auckland Floods and Cyclone Gabrielle were picked up by other media, such as RNZ's Mediawatch, or followed-up in interviews. One such column, "Thank God for news media in a storm", aroused a lot of interest in the contemporary role of New Zealand's media. This was followed by a bouquet for the country's news teams that "can stand proudly beside those who responded to the national emergency". And many Pacific seasonal workers were impacted on Cyclone Gabrielle's trail of devastation in Hawke's Bay. Gavin continued:
Reporters, visual journalists, anchors, news executives, production teams and technicians did the industry proud in bringing vital information to the public . . . We watched, listened and read as contact with large areas of the North Island were cut off by raging water, as houses and livelihoods were swept away, and as the cost in human lives began to mount [11 with five people missing to date] . . . And news teams in blacked-out areas used all their ingenuity to keep reporting and to maintain contact with the outside world as they moved through the broken landscape.
Nik Naidu, Red Tsounga, Rachael Mario and the dedicated team of Whānau Community Hub volunteers have been doing amazing work during the floods, shifting washed out families to accommodation, cleaning-up, fundraising, and providing food and temporary shelter at the hub. Image galleries of their activities at Asia Pacific Report are here and here.
David Robie and Shailendra Singh offered commentaries and insights into media freedom issues in the Pacific's two largest countries with the biggest media industries, Fiji and Papua New Guinea. Ironically, while Fiji appears to be shedding its long condemned draconian media law with the change to a more democratic and transparent government led by new PM Sitiveni Rabuka, Papua New Guinea is considering introducing licensing for journalists and state powers for a legislated PNG Media Council. While David did an interview with ABC Radio Australia's Lice Movono (that was also published in The Fiji Times), Shailendra discussed the implications for PNG of the Fiji media law with RNZ's Pacific Waves programme.
Heather Devere, David and Pacific Journalism Review editor Philip Cass prepared a discussion paper on the PNG Draft National Media Development Policy 2023 and sent it to Transparency International-PNG and the Community Coalition Against Corruption (CCAC) and to journalism advocates questioning the draft policy. As the controversy grew, the PNG Department of Communication and Information Technology (DCIT) quietly pulled the draft media policy from its website. The APMN submission can be viewed on our Facebook page: https://www.facebook.com/PacificJournalismReview
David also wrote several commentaries about the hostage crises in Papua New Guinea and neighbouring West Papua. On February 7, a NZ pilot flying for Susi Air, Phillip Merhtens, was seized by the West Papuan National Liberation Army rebels seeking independence from Indonesia for the Melanesian region. He was still being held, but safe, at the time of compiling this newsletter. Less than two weeks later an Australian-resident NZ archaeology professor, Bryce Barker, and three PNG women researchers were also taken hostage by about 21 gunmen in the Southern Highlands. But after an agonising week, they were set  free by the gunmen who were motivated by "greed", as Police Commissioner David Manning put it. The gunmen demanded a ransom of 3.5 million kina but succeeded in getting only K100,000 (about NZ$46,000). Police have pledged to hunt down the gunmen.
Further information: http://bit.ly/3xX43Ub
4 Jim Marbrook's film shoots in Philippines, PNG, January-February 2023
In the last few months, Jim Marbrook has been researching in the Philippines and Papua New Guinea. Travel in the Philippines has been to finish off the principal photography on his documentary Shoe City, a comparative study of shoemaking communities around the world. In Papua New Guinea, he is filming the impact of aid projects in communities in East New Britain.                                                                   
6 Ena appointed to PACDAC, February 2023
Congratulations to Ena Manuireva who has been  appointed to the Public Advisory Committee on Disarmament and Arms Control (PACDAC) which is currently looking onto nuclear justice/violence and the legacy of the Pacific tests. We look forward with interest to the developments there.
More information: http://bit.ly/3KMHol4
Keep the vision!
Ngā mihi
Dr David Robie
Deputy Chair