Encapsulating the 'critic and conscience' role of a university
09-08-2019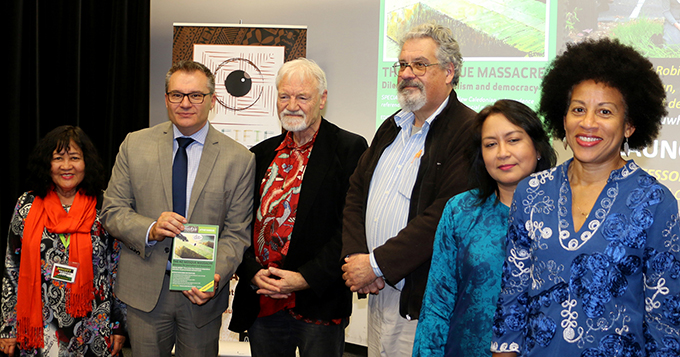 Professor Guy Littlefair with Pacific Journalism Review team members designer Del Abcede (from left), founding editor Professor David Robie, associate editor Dr Philip Cass, assistant editor Khairiah Rahman and Associate Professor Camille Nakhid, an editorial board member and chair of the PMC Advisory Board. Image: Michael Andrew/PMC  Top image: Editor professor David Robie speaking at the Melanesia Media Freedom Forum (MMFF) preconference at Griffith University's Southbank campus in Brisbane on October 28.
The launch speech of "The NZ Mosque Massacre" double edition of the Pacific Journalism Review marking 25 years of publication of the journal delivered by Professor Guy Littlefair, Dean of the Faculty of Design and Creative Industries and Pro Vice Chancellor of Auckland University of Technology, on 25 July 2019.
On 15 March 2019, New Zealanders learned for a fact what we had suspected for a long time: the so-called "tyranny of distance" identified in the 1800s could no longer separate and isolate us from the worst excesses and evils of the modern world.
For almost as long as there has been a Pākehā state on these shores, there has been an eager willingness to travel to the ends of the world to fight to protect what we have deemed to be our values, our way-of-life, even our people in other lands. We see the consequences all around us: every city, town and village has a monument to those who fell in war; every window at the Auckland Museum is framed with the name of an overseas battle; every Kiwi family has a story about a father, a brother, a son who did not come home.
But that is, as we know and acknowledge, a Pākehā story. Of course, Māori were part of all the conflicts New Zealanders joined, and there are many stories of their bravery and contributions. But only Māori had the knowledge and the stories of the impact of conflict, violence, and violation being in their homeland and in their homes.
Until March 15th.
For Pākehā New Zealanders – like me – the visceral and deeply shocking reaction to the intensity and insensitivity of acts of violence "happening here" was new. It was confronting. And it was deeply humbling.
A group of Kiwis who – like me – came to these shores recently on an aeroplane and not in the 1800s on a tall ship, or a thousand years earlier on waka, was targeted at peace and at prayer simply and solely because of who they were. Men. Women. Children. 
In the hours and days after, Prime Minister Jacinda Ardern said she would never use the gunman's name. Neither will I. And neither will I talk any more of what he did, or why he thought to do it. My only further comment about that day is what could be more Kiwi than a man fighting off a gunman by clobbering him with an eftpos machine?
Which brings me to the aftermath. The American children's TV host Mr Rogers famously told his audience that when the worst happens – the disasters, the fires, and, yes, the shootings – not to dwell on the horror, but to look for the helpers. They are always there.
The paramount role of a university is to be a critic and conscience of society. I don't like one interpretation of that phrase, because "critic" can imply "critical" and "conscience" can imply being told to do things properly (whatever that might mean). I prefer to think of "critic and conscience of society" as a way of saying we in universities help. We train the doctors who help us get well. The engineers who help us navigate the modern world. And the journalists who go into that world and help us understand what has happened and why.
Quite rightly, almost all of the reaction to the terror in Christchurch was about the people who were targeted, the aid they needed, and the steps our politicians and society took to make it so much harder for an act like that to happen again. But there was a real, if small, discussion about the journalists who were telling those stories. They looked to me to be very young. They were overwhelmingly white. And they seemed shocked and lost and affronted – like I was – that terror happened here.
The special double issue of the Pacific Journalism Review that I have the privilege to launch picks up the narrative at precisely this point: the point the journalists themselves were unable to get past. Its subtitle – "Dilemmas for journalism and democracy" – in five short words encapsulates the critic and conscience role of the university. And the articles, stories, comments, and reactions within its pages could, I believe, only have been produced so quickly and so well at Auckland University of Technology, with our heritage of and commitment to real-world, relevant, and connected research that makes a difference, that helps.
One final point. I am not suggesting for a moment that "the solution" to racism, hate speech, the role of journalists reporting tragedy, and the responsibility of the media within a contemporary democracy lies in this edition. And I know David, the contributors, and the Pacific Media Centre would never say that anyway. But what they might not say, because they are not the type to sing their own praises, is that they have performed a vital role nonetheless. They picked the conversation up, added context, analysis, and research to those initial stories, and are now putting the results out into the world.
If journalism is the first draft of history, then the academic analysis of journalism and journalists is the edited, polished and considered second draft. And as a record of the struggle of the media in Aotearoa in our corner of the South Pacific to do and be better, this journal provides, once again, a magnificent example of the best, most relevant, most meaningful research that I as Dean could hope to see come from this faculty.
David, and team, congratulations. I could not be prouder.
Visit the NZ Mosque Massacre edition