Pacific Journalism Monographs is a research companion to Pacific Journalism Review and publishes longer research projects in an online and booklet format.
The publication offers journalists, journalism academics and researchers an outlet for quality research and analysis in a long-form article of up to 15,000 words. The Monographs are a sister publication to Pacific Journalism Review but provide a broader platform than is generally available in the journal. Topics cover a diverse range of journalism research from media freedom and human rights in the Asia-Pacific to Asia-Pacific research methodologies, climate change, vernacular Pasifika media research in New Zealand, and post-coup self-censorship in Fiji.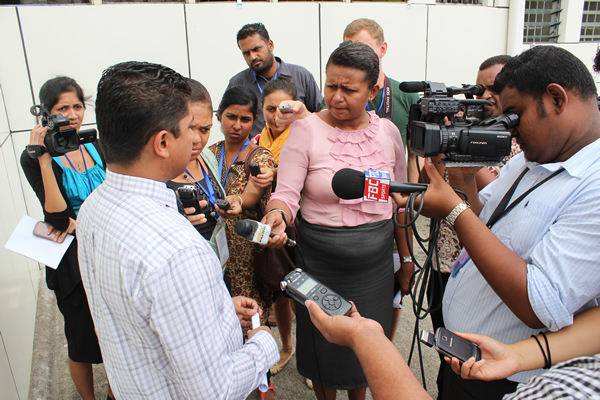 Fiji Elections Supervisor Mohammed Saneem answers questions from journalists during the 2014 election. Image: Ricardo Morris
Current Issue
No. 7 (2017): Pacific Journalism Monographs No. 7: Conflict, Custom & Conscience: Photojournalism and the Pacific Media Centre 2007-2017
Edited by Jim Marbrook, Del Abcede, Natalie Robertson and David Robie
ISBN: 978-1-927184-45-5
A group of Melanesian women march behind an anti-mining "NO BCL, NO MINING" banner, across a small field in the now-autonomous region of Bougainville. Their protest is ostensibly unseen by the rest of the world. Their protest efforts are local, gender-specific, indigenous, and part of a wider movement to stop any production on the Panguna copper mine. This conflict claimed an estimated 10,000 lives in the 1990s civil war. This photograph is one of the many that we have selected to mark the 10th anniversary of the Pacific Media Centre in Auckland University of Technology's School of Communication Studies.

Fifteen photojournalists and photographers who have worked with the Pacific Media Centre for the past decade have donated their images for this book project. Although the book is not actually for sale, it has been produced as a limited edition for those who have contributed to the PMC. It will also be available in libraries.
Libraries requesting a copy should go to: http://www.autshop.ac.nz/pacific-journalism-monographs-no-7-conflict-custom-conscience/
View All Issues