Sharing Mobile, Portable and Personal Travel Stories
From "I was there" to "I was there"
Keywords:
travel, tourism, tourist gaze, home movies, mobile media, digital media, Baby boomers, Millennials
Abstract
The purpose of this article is to offer a preliminary exploration of the similarities and differences between historical and contemporary travelogue practices of tourists by comparing some aspects of the travel behaviour and film culture of two generations, the boomers and the millennials. It focuses, in particular, on how amateur travel films have evolved stylistically and conceptually since the era when they were shot on small analogue film cameras (8mm and Super-8mm film) to recent videos of the "genre" shot on small, portable digital cameras and android devices. By comparing the travel films of these two generations, this article explores the ways in which mobile media has reinvigorated questions about the formation and proliferation of the tourist gaze. It also discusses how amateur travel films offer an alternative to hegemonic forms in film by demonstrating techniques and practices used by amateur filmmakers that are discouraged by professionals of the corporate media. Lastly, it explores how sharing travel stories is different now that the notion of community is at the heart of the internet, and home movies are not just for the home anymore.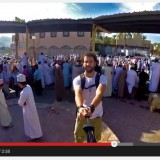 How to Cite
Cammaer, G. (2015). Sharing Mobile, Portable and Personal Travel Stories: From "I was there" to "I was there". The Journal of Creative Technologies, (5). Retrieved from https://ojs.aut.ac.nz/journal-of-creative-technologies/article/view/36
Copyright (c) 2015 Gerda Cammaer and Colab
This work is licensed under a Creative Commons Attribution-NonCommercial-NoDerivatives 4.0 International License.