The Liquid Aesthetic of the Cameraphone
Dean Keep

Swinburne University
Keywords:
liquid aesthetic, cameraphone, photography, iPhoneography, genre, remediation
Abstract
The cameraphone has emerged as a dominant device for the production and sharing of photographic images in the new millennium.  No longer constrained by technological parameters of the past, the cameraphone continues to remediate and refashion the tropes of traditional photography, thus giving rise to new image making processes and, arguably, new ways of seeing.
From early model cameraphones manufactured in 2004 through to the enhanced capabilities of the ubiquitous Apple iPhone, the cameraphone has evolved from a crude digital imaging/communications tool into a sophisticated networked media device.  It is now capable of capturing, editing, storing, and exporting high-resolution images.
As the cameraphone continues to evolve, constant technological shifts have facilitated a liquid aesthetic whereby cameraphone images, and photographic practices are shaped and/or influenced by the constantly fluctuating nature of this transformative technology.  With this in mind, my research examines the shape-shifting parameters of the cameraphone and its impact on the field of photography.  I explore ways in which cameraphones may reconfigure our relationship with imaging and facilitate new modes of photographic practice.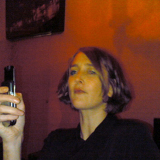 How to Cite
KeepD. (2014). The Liquid Aesthetic of the Cameraphone. The Journal of Creative Technologies, (4). Retrieved from https://ojs.aut.ac.nz/journal-of-creative-technologies/article/view/31
Copyright (c) 2014 Dean Keep and Colab
This work is licensed under a Creative Commons Attribution-NonCommercial-NoDerivatives 4.0 International License.