Re-imagining Place with Filters: More than Meets the Eye
Keywords:
hauntology, social media, smartphone, iPhoneography, mobile media
Abstract
Smartphone camera practices are mediated by smartphones, smartphone apps, the physical environment including weather, and the affordances and assemblages of social media.  Visual culture and objects such as photographs and videos have become part of our routine social interactions online.  The popularity of faux-vintage apps indicates that people are endeavoring to capture more than an accurate depiction of what their eyes can see.  They are using faux-vintage aesthetics to go beyond visual sense to capture dynamic and embodied aspects of what the whole sensorium experiences.  This paper makes use of Derrida's notion of hauntology as a springboard to examine the popularity of faux-vintage photography.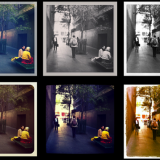 How to Cite
BerryM. (2014). Re-imagining Place with Filters: More than Meets the Eye. The Journal of Creative Technologies, (4). Retrieved from https://ojs.aut.ac.nz/journal-of-creative-technologies/article/view/28
Copyright (c) 2014 Marsha Berry and Colab
This work is licensed under a Creative Commons Attribution-NonCommercial-NoDerivatives 4.0 International License.