Mobile Video Platforms and the Presence of Aura
Keywords:
mobile video platforms, aura, juxtaposition, autoethnography, remixability
Abstract
The development and rapid uptake of platforms and applications to capture and share video are generating emergent practices associated with social media.  This presents new opportunities for filmmakers to explore different contexts.
This paper will examine the development of mobile video applications and their use as production tools for the creation of media works that trigger an auratic experience.  In doing so, it will call on my own autoethnographic and practice-led research to affirm the mobile video format's ability to engage in thoughtful and reflective media creation through the use of applications such as Instagram and Vine.
Videography has become synonymous with a modern utilisation of the Internet and the most contemporary digital media equipment.  Such developments have seen increased bandwidth and high-resolution consumer mobile cameras.  Video sharing has thus become more common among social media users.  Fierce competition is developing among the key players Instagram and Vine, and debate is mounting between social media commentators.  Yet, these platforms serve different purposes.  Instagram allows users to "choose and share more personal moments with one another," and Vine enables users to share videos with a wider audience.  The nature of my use of the two platforms falls into alignment with these common tendencies.  My recent interactive Instagram/Korsakow film entitled North (2013) demonstrates this in part through documenting my experience of Melbourne.
I will argue in this paper that these mobile applications can be used to generate aura, a trait discussed by theorists including Walter Benjamin, Jay Bolter, Stephan Schutt, and Marsha Berry.  This characteristic is linked to the presence of "additional contexts generated through visual juxtapositioning" (Schutt & Berry 2011, pp. 39-40).  It is through the presence of supplementary contexts (often manifested as a personal context against the backdrop of Social Networking Sites) that works produced using Instagram Video and Vine can be auratic.  When addressing these issues, I will draw on autoethnographic research of social media use, including my utilisation of Instagram and Vine as both social and creative practice tools in the making of North.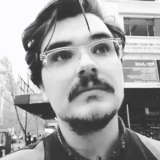 How to Cite
KellyP. (2014). Mobile Video Platforms and the Presence of Aura. The Journal of Creative Technologies, (4). Retrieved from https://ojs.aut.ac.nz/journal-of-creative-technologies/article/view/27
Copyright (c) 2014 Patrick Kelly and Colab
This work is licensed under a Creative Commons Attribution-NonCommercial-NoDerivatives 4.0 International License.