Digital Art Live: Exploring the Aesthetics of Interactivity
Frances Joseph

Auckland University of Technology

Nolwenn Hugain-Lacire

Verena Ziegler
Abstract
While technologies and theories of interactive media have developed exponentially over the past twenty five years, the aesthetics of interactivity, as a philosophy of perception and validation of interactivity as a form of art, has been slower to emerge. While aesthetic inquiry has expanded to investigate the sensuous perception of many forms of electronic art, interactivity as an expressive medium challenges many fundamental assumptions of traditional aesthetics.
This paper addresses the performative aesthetics of interactivity through a consideration of a programme of interactive art works presented through the Digital Art Live (DAL) project in Auckland. The DAL initiative is New Zealand's only specialised, ongoing, interactive art programme. It has engaged both public and private entities, artists, developers, community organisations, staff and students from three universities. The location of the DAL screen in a performing arts complex introduces some new perspectives into the emerging discourse about interaction, aesthetics and creative practices. Nine DAL projects are considered in relation to issues raised in Simon Penny's critical interrogation of the performative aesthetics of interactivity (2011) and literature on contemporary aesthetics. Key issues including the importance of aesthetic inquiry; the notion of performativity as meaningful, embodied practice; object/viewer spatial relationships; synesthetics and the interdisciplinarity of interactive art; and the relationship between representation and interaction are addressed as part of ongoing research into interactive art that is being conducted through the DAL project.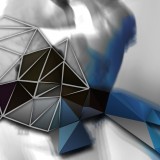 How to Cite
Joseph, F., Hugain-Lacire, N., & Ziegler, V. (2013). Digital Art Live: Exploring the Aesthetics of Interactivity. The Journal of Creative Technologies, (3). Retrieved from https://ojs.aut.ac.nz/journal-of-creative-technologies/article/view/19
Copyright (c) 2013 Frances Joseph, Nolwenn Hugain-Lacire, Verena Ziegler & Colab
This work is licensed under a Creative Commons Attribution-NonCommercial-NoDerivatives 4.0 International License.