Performing design: game design, practice, praxis and the theatre of the impressed
Abstract
This paper is a reflection on a design teaching project that endeavours to establish a culture of critical design thinking in a tertiary game design course. In the first instance, the 'performing design' project arose as a response to contemporary issues and tensions in the Australian games industry and game design education; in essence, the problem of how to scaffold undergraduate students from their entry point as 'players' (the impressed) into becoming designers. The performing design project therefore started as a small-scale intervention to inspire reflection in a wider debate that includes: the potential evolution of the contemporary games industry; the purpose of game design education; and the positioning of game design as a design discipline.
Our position is that designing interactive playful works or games is victim of a tendency to simplify the discipline and view it from either the perspective of science or art. In this paper we look at some of the historical discussions on the distinct identity of games. Then we present an overview of the typical state of play in contemporary game design education which inspires the performing design project as an intervention or teaching technique. This leads us to question understandings of education and training and creativity and innovation. Finally we reflect on insights arising from the performing design project which lead us to support Archer's call for a 'third area' that balances the monolithic practices of the two major academic disciplines.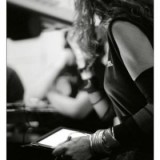 How to Cite
Turner, T. A. J. (2013). Performing design: game design, practice, praxis and the theatre of the impressed. The Journal of Creative Technologies, (3). Retrieved from https://ojs.aut.ac.nz/journal-of-creative-technologies/article/view/17
Copyright (c) 2013 truna aka j.turner & Gordon Moyes & Colab
This work is licensed under a Creative Commons Attribution-NonCommercial-NoDerivatives 4.0 International License.