Resurrecting the Archive: 3D printing and interactive technologies in Libraries
Jason Hansen

Simon Fraser

Leon Gurevitch

Walter Langelaar

Tim Miller

Rhazes Spell
Keywords:
3D Printing, Augmented Reality, Virtual Reality, Information Management, Cyber-Physical Systems, Libraries, Cognitive Load Theory, CIDOC CRM
Abstract
Emerging technologies influence the shape of society, how we interact with the world, how we learn, how our activities create new knowledge and how we can recontextualise old knowledge in new ways.
References
Achten, Ryan. Virtual Recollection: Artefact Engagement in Three-Dimensional Environments. Master's Thesis (2016). Victoria University of Wellington, New Zealand. http://hdl.handle.net/10063/6144

Ahluwalia, Pal, and Toby Miller. "The prosumer."(Editorial) in Social Identities no.20: 4-5 (2014): 259-261. http://dx.doi.org/10.1080/13504630.2015.1004830

Barton, Jane. "Digital libraries, virtual museums: same difference?" Library Review No.54: 3 (2005): 149-154. http://dx.doi.org/10.1108/00242530510588908

Billinghurst, Mark, Hirokazu Kato and Ivan Poupyrev. "The magicbook-moving seamlessly between reality and virtuality." IEEE Computer Graphics and applications No. 21: 3 (2001): 6-8. http://doi.org/10.1109/38.920621

Clark, Adrian and Andreas Dünser. "An interactive augmented reality coloring book." In 3D User Interfaces (3DUI), 2012 IEEE Symposium: 7-10. http://ieeexplore.ieee.org/stamp/stamp.jsp?tp=&arnumber=6184168&tag=1

Childs, J. "Extracting DEM from Topographic Maps." http://www.terrainmap.com/rm19.html

Denvir, Christopher. "Past Caring: Archive Project", Royal Society for the Encouragement of Arts, Manufactures and Commerce. (1998): 120-121. http://www.jstor.org/stable/41378675

Ensor, Pat. "Multimedia to the People: plenty of room for multimedia enticements alongside traditional library offerings." Library Journal New York No.124 (1999): 15-16. Retrieved from http://search.proquest.com.helicon.vuw.ac.nz/docview/196744862?accountid=14782, accessed 2 June 2016

Garde-Hansen, Joanne. "Digital Memories: The Democratisation of Archives", pp.70-90 in Media and Memory by Joanne Garde-Hansen. Edinburgh: Edinburgh University Press, 2011.

Fisher, Maxe with Simon Fraser, Tim Miller, Ross Stevens, Jerad Tinnin, and Annelies Zwaan. "Digital craft in digital space: A paradigm shift in the making." Design and semantics of form and movement (2012): 223. https://www.northumbria.ac.uk/media/6278716/desform-2012-proceedings-v2.pdf

Hughes-Ward, Dylan. Making Connections: 3D printing, libraries and augmenting their reality. Master's Thesis (2016). Victoria University of Wellington, New Zealand.

Mohr, Sebastian, and Omera Khan. "3D printing and its disruptive impacts on supply chains of the future." Technology Innovation Management Review 5, no. 11 (2015): 20. Retrieved from http://timreview.ca/sites/default/files/article_PDF/MohrKhan_TIMReview_November2015.pdf. Accessed 7 April 2016.

Mayer, Richard E., and Roxana Moreno. "Nine ways to reduce cognitive load in multimedia learning." Educational Psychologist No.38: 1.(2003): 43-52. http://dx.doi.org/10.1207/S15326985EP3801_6 Accessed 7 April 2016

Rundle, Hugh. "Mission creep: A 3D printer will not save your library." It's Not About the Books blog (2013). Retrieved from: https://www.hughrundle.net/2013/01/02/mission-creep-a-3d-printer-will-not-save-your-library

Spagnuolo, Michela, and Bianca Falcidieno. "3d media and the semantic web." IEEE Intelligent Systems 24, no. 2 (2009): 90-96. retrieved from http://ieeexplore.ieee.org. Accessed 19 May 2016

Stevenson, Alison, Conal Tuohy, and Jamie Norrish. "Ambient Findability and Structured Serendipity: Enhanced Resource Discovery for Full Text Collections." (2008). Retrieved from http://hdl.handle.net/10063/267 Accessed 2 June 2016.

Quiver Augmented Reality. "(2013) Quiver – 3D printing test." https://www.youtube.com/watch?v=UxYqhmEB4G8&feature=youtu.be

Zhuge, H. "The knowledge grid: toward cyber-society." Singapore: World Sci. Pub 10 (2012): 7567. Accessed 2 June 2016.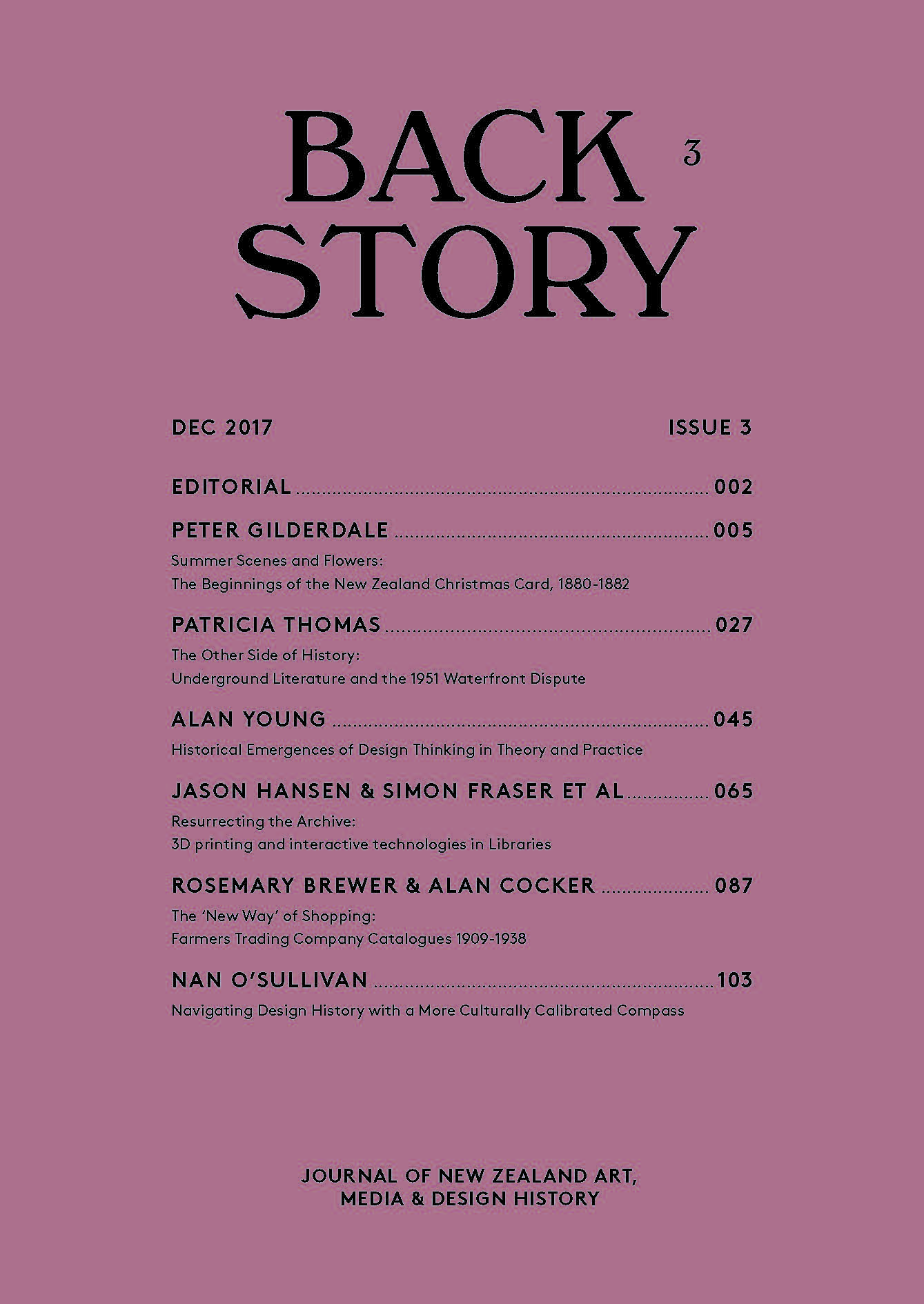 How to Cite
Hansen, J., Fraser, S., Gurevitch, L., Langelaar, W., Miller, T., & Spell, R. (2017). Resurrecting the Archive: 3D printing and interactive technologies in Libraries. Back Story Journal of New Zealand Art, Media & Design History, (3), 65-85. https://doi.org/10.24135/backstory.vi3.29
Copyright (c) 2017 Jason Hansen, Simon Fraser, Leon Gurevitch, Walter Langelaar, Tim Miller, Rhazes Spell
Article text:
This work is licensed under a Creative Commons Attribution-NonCommercial 4.0 International License.
Photos:
Backstory has been granted permission to reproduce photographs and images that are subject to copyright. Permission to reproduce this material must be sought from the copyright holder concerned. Please note, some images may have been removed due to copyright reasons.