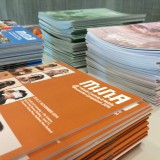 The Fourth International Mobile Creativity and Mobile Innovation Symposium (#mina2014) [Proceedings] offered a unique, national and international platform and space for creative, industrial and institutional communities relating to recent and challenging mobile developments or trends for smartphones, tablets or phablets. It was a great opportunity for "mobile people" and "people with a mobile interest" to meet and share expertise, research outcomes and new forms of creative practices. It also provided a collegial forum [Presentations] for more than forty presenters, in situ or via Hangout on Air (live video), featuring academic papers and panel discussions, a series of nearly twenty poster presentations, and two international screening events. This specific and collaborative Colab-MINA edition highlights some of the #mina2014 discussions with a deeper and more analytical creative and multidisciplinary perspective; it also encompasses further and active contributors who couldn't be part of #mina2014.
The following papers explore Mobile Technologies through various playful, innovative and experimental lenses: from collective to individuals, from global to local, from documentary to fiction. More specifically, in this edition, Gerald discusses about animation and mobile film-making as a vehicle for youth engagement and storytelling from a documentary perspective; Caroline examines experientiality via graphical and haptical creative narrative for mobile platforms aimed at young adults; Iceberg proposes a new form of international and participatory video-collage built upon some contemporary and utopian mobile aesthetics.; Mark explores how mobile devices serve creative practices, especially Photography, as well as foster co-creation and how it can intersect with open education; Gerda focuses on the mobile aesthetic and practices revealed over time through the tourist gaze; and Laurence offers a portrait of the selfie itself, a specific approach of oneself in the world rather than just a simple digital self-portrait.
The MINA team would like to thank the authors and the MINA review committee for their tremendous contribution and dedicated time. This edition would not have been possible without support from the Faculty of Design and Creative Technologies and Colab at Auckland University of Technology, and the College of Creative Arts at Massey University. A special thank you to Desna Jury, Frances Joseph, Theresa Kendrick and Jan Hamon for their considerable support. Danke Max!
Laurent Antonczak
Guest Editor
Co-founder MINA – Mobile Innovation Network Aotearoa