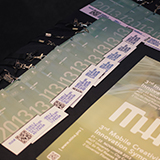 The Mobile Innovation Network Aotearoa [MINA] 2013 International Symposium presented a cutting-edge forum for filmmakers, artists, designers, researchers, academics, and industry professionals.  The purpose was to exchange, share, and disseminate key concerns, innovations, creations, insights, expertise, and research in the fields of mobile devices, mobile social media, and ubiquitous technologies.
This MINA Special Edition for the Journal of Creative Technologies provides an overview of current developments and dynamics within multi-disciplinary contexts.  Issues discussed include mobile media production; mobile pedagogy; mobile aesthetics; mobile hybrid arts; mobile interactivity; mobile space; mobile society; and mobile transmedia.
The papers in this Special Edition explore Creative Technologies including AR, Quantum Filmmaking, open-source technologies, i-book publication, mobile video applications and smartphone apps.  Innovations afforded by mobile technology are manifest and demonstrated through mobile applications for site-specific installation in a post-gallery context, interdisciplinary participatory art practice, archivists and citizen documentarians, Māori screen industry, and videoloop filmmaking.  Discussions integrate theoretical and conceptual frameworks of embodiment, interactivity, mobility, computer science, new media, conceptual art, narrative, participatory archiving strategies, autoethnography, visual culture, and practice-led research.  Brought together in this Issue, they demonstrate the contributions that mobile media make to the Academy.
The MINA team would like to thank the many contributors to the Symposium and the MINA Committee.  MINA 2013 would not have been possible without support from the School of Art & Design and Colab (the collaboratory for Design and Creative Technologies) at Auckland University of Technology, and the College of Creative Arts at Massey University.
Dr. Max Schleser
Guest Editor                                                                                                                                                                          
Co-founder MINA – Mobile Innovation Network Aotearoa