Interstices Issue 8: Disagreement The aesthetics of politics CFP
Tina Engels-Schwarzpaul

Julia Gatley

Ross Jenner
Abstract
Where one searches for the hidden beneath the apparent, a position of mastery is established. …
It is possible, from any given point, to try to reconstruct the conceptual network that causes a painting or a piece of music to make an impression, that causes reality to appear transformable or inalterable.


(Jacques Rancière, The Politics of Aesthetics)
Call for Papers
Submissions due: 1 February 2007
Government fulfills an ideal of order when it administers, manages, and tries totally to account for a population; but its reality is 'the police'. The police keeps everyone in their place, imposes calculations of value, apportions shares in society. The political is an opposite process, and it is rare. It happens when outcasts stand up to say that the calculations are wrong, when they refuse the names and the places they were given, to claim a share in society and another name. Politics is thus based on 'disagreement', a conflict over what it means to speak and over the distribution of the sensible that delimits what can be said and determines the relationship between seeing, hearing, doing, making and thinking.
For Jacques Rancière, the aesthetic dimension is built into any radical emancipatory politics. He argues that the shift from the political to the aesthetic is inherent in the political itself. The uncertain reality of art, the transport of meaning that defines metaphor, is part of every political dispute. Political argument itself bears primarily on the legitimacy, or even the reality, of the fundamental elements that configure the disagreement (its place, its object, its subjects). The place-changing action of metaphor – one thing or person for another – is what allows the creation or extension of a community of speaking subjects. Here, art can be historically effective, directly political – by means of fictions: arrangements of signs that belong to reality, yet at the same time make it legible to the person moving through it — as though history were an unfinished building, a constructed fiction, of which we are both architects and builders.
Interstices 08 seeks to explore the interrelation of the aesthetic and the political in theories and practices of architecture and related arts. We do not expect contributors necessarily to engage with Ranciere's writings, but the notions of disagreement and the politics of aesthetics provide a common ground. Contributions to the theme are invited under the headings of  "Refereed Papers", "Project Reports", "Reviews" and "Translations".
Refereed papers must not exceed 5000 words, non-refereed full papers 2500 words, and reviews 1000 words (longer papers are only accepted in special circumstances and with prior negotiation). Text must be formatted in accordance with APA's Publication Manual (5th Edition; Notes for contributors will be sent out to authors whose contributions have been accepted). Spelling should follow UK English and quotations must be translated into English. All papers must be submitted electronically in MS Word or RTF format, initially with .jpg image files of 300dpi  (approx. 10% larger than the intended size of reproduction). Figures should be numbered clearly in the text, and image captions and credits must be included with submissions. It is the responsibility of the author to secure permissions for image use and pay any reproduction fees. A brief author bio of approx. 150 worlds must also be included.
Submit to
The Editors, Interstices (7)
Interstices: Journal of Architecture and Related Arts is an open forum for the dissemination of thought and practices in architecture and related arts. It is a non-profit journal published jointly once a year by the School of Architecture, The University of Auckland, and the School of Art and Design, Auckland University of Technology.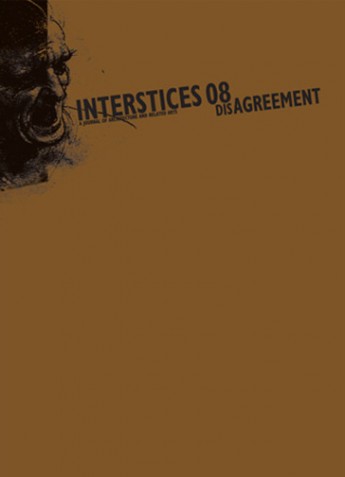 How to Cite
Engels-Schwarzpaul, T., Gatley, J., & Jenner, R. (1). Interstices Issue 8: Disagreement The aesthetics of politics CFP. Interstices: Journal of Architecture and Related Arts. Retrieved from https://ojs.aut.ac.nz/interstices/index.php/Interstices/article/view/639
Section
Related News & Events