Embodying the Mind and Reminding the Body
Including the Body in Psychotherapy
Keywords:
mind/body problem, psychoanalysis, body psychotherapy, modern trends
Abstract
The place and role of the body within psychodynamic psychotherapy has a long and complex history. Psychoanalysis has traditionally seen the body as being the location for negative psychosomatic enactments rather than as a dynamic part of the therapeutic process. This paper shows that the dialectical yet unitary relationship between mind and body has been recognised by some key psychoanalytic writers, such as Bion and Ogden. It describes how four trends in modern psychotherapy, e.g., the study of transference phenomena, trauma recovery, infant studies, and affective neuroscience are bringing the body back into focus for all practitioners. The paper then attempts to provide a conceptualisation of how the whole body can be brought back into psychotherapy through an understanding of what has been excluded and included. It highlights the importance of a dialogical approach among psychotherapies and provides a philosophical understanding of why the whole person, mind and body, needs to be "known" in the therapeutic relationship.
Waitara
He roa he whīwhiwhi te whakapapa o te wāhi me te mahi a te tinana i roto i ngā mahi hihiko whakaora hinengaro. Tūturu, ki tā te wewetehinengaro ko te tinana te wāhi whakaata hinengaro tōraro, ehara i te wāhi hihiko o te mahi haumanu. He whakaaturanga tā tēnei tuhinga ko te arohaehaenga he aha koa te pāngatahi o te ihomatua me te tinana kua kitea e mātau ana ētahi kaituhi kaiwhakaora hinengaro matua, pēnei i a Bion rāua ko Ogden. E whakaahua ana i ngā whainga e whā i roto i te whakaoranga hinengaro o tēnei wā, hei tauira: te whai mātauranga o te whakawhitinga puiaki, te whakaora mamae, te mātauranga kōhungahunga, te aropūtaiao e whakahoki mai ana i te tinana hei arotahi mā te katoa o ngā kaiwhakawaiwai. Kātahi ka whakatau te tuhinga ki te whakarato i tētahi ariāhanga ara whakahoki mai i te tinanan ki te whakaoranga hinengaro mā te mātatau ki ngā whakaputanga me ngā whakaurunga. Ka miramirahia te nui o te kōrerotahi ā ngā kaiwhakaorahinengaro, ā, ka whakaratohia he mātauranga mātāpono kia āta mōhiotia te katoa o te tangata, te hinengaro te tinana i roto i ngā pānga haumanu.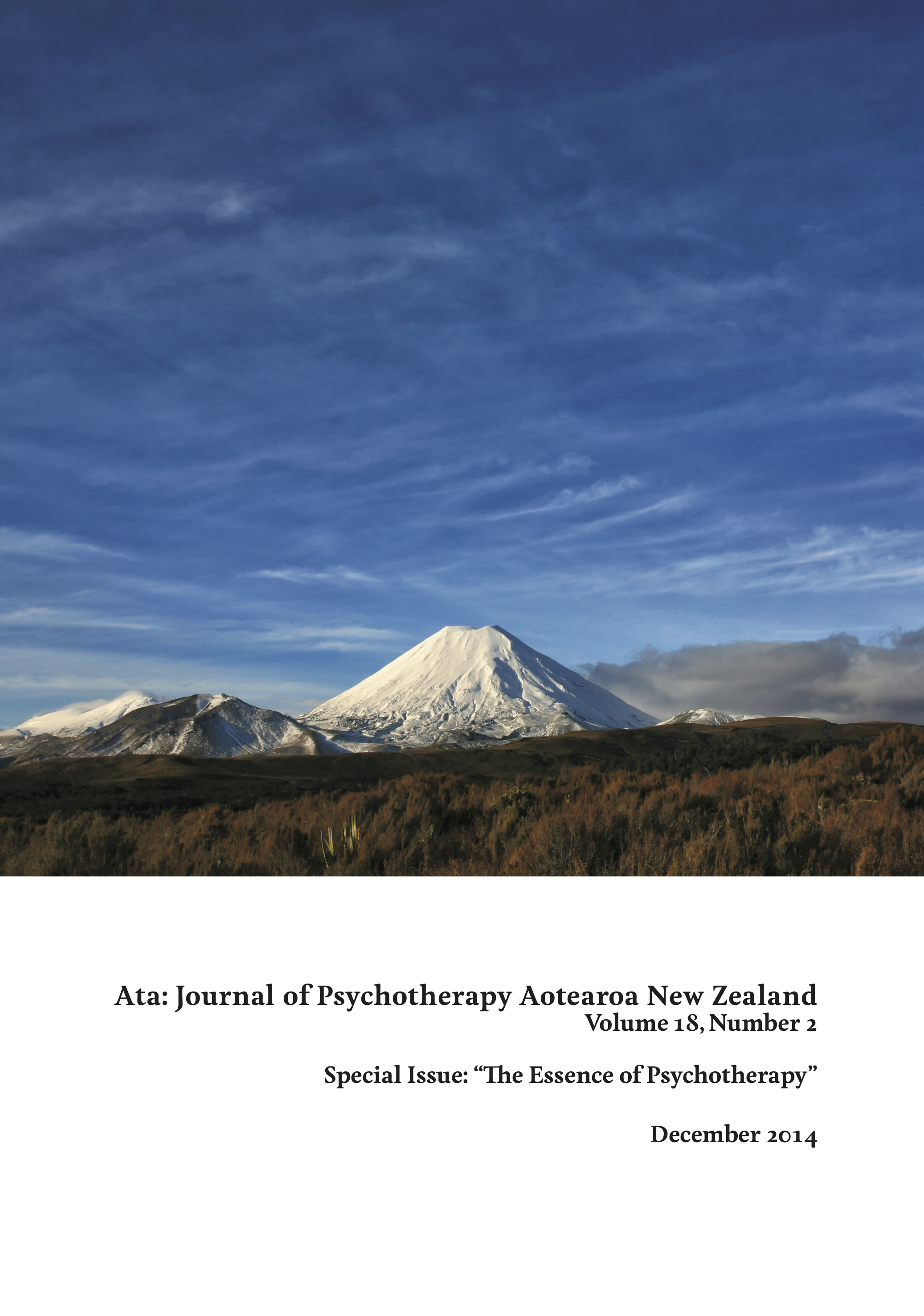 How to Cite
Cockburn, G. (2014). Embodying the Mind and Reminding the Body: Including the Body in Psychotherapy. Ata: Journal of Psychotherapy Aotearoa New Zealand, 18(2), 103-112. https://doi.org/10.9791/ajpanz.2014.10
Copyright (c) 2014 Ata: Journal of Psychotherapy Aotearoa New Zealand
This work is licensed under a Creative Commons Attribution-NonCommercial 4.0 International License.