Supervision as Cultural Partnership
Contributions to Dialogue
Keywords:
supervision, culture, counselling, research, dialogue
Abstract
The term cultural supervision has been coined as part of a strategy that implicates supervision in the support and development of culturally appropriate therapeutic practice. In Aotearoa New Zealand particular focus has been given to supervision where the client is Māori and the practitioner is a member of the dominant Pākehā culture particularly, or of other non-Māori cultures. However, while the phrase cultural supervision has entered common professional parlance, the practice has had little research attention in counselling/psychotherapy in New Zealand. Cultural supervision appears to encompass a range of understandings, and there is no clear agreement about practice implications. It is unclear what alignment there is between aspirations, regulations, and practice. This article reports on an exploratory qualitative study that investigated how supervision might work in supporting culturally appropriate counselling practice in Aotearoa New Zealand. The study's findings are presented as a multi-voiced dialogue. This arts-based representational practice enacts the uncertainties of post-colonial experience. Its intention is to make assumptions, ideas, and practices available for discussion. Its contribution is to join current dialogue about supervision and culture, and to raise further questions about how supervision and culturally appropriate practice come together.
Whakarāpopotonga
Kua whakakaupapahia te kīanga whakahaere tikanga-ā-iwi ki tētahi peka o tētahi rautaki hono whakahaere tikanga ki te tautoko, whakangungu haumanu tikanga-ā-iwi tika. I Aotearoa tōtika tonu te aronui atu ki ngā wā he Māori te kiritaki he Pākehā o te ahurea matua, o te hunga ehara rānei i te Māori te kaiwhakawaiwai. Heoi, ahakoa kua putaputa noa mai tēnei kīanga i waenga i ngā kōrerorero ngaio, kāre anō kia āta rangahauhia kia arotikahia rānei i roto i ngā mahi kaikōrero/kaimahi hinengaro i Aotearoa. Te āhua nei he maha ngā mātauranga e tāwharauhia ana e te mahi nei, ā, kāre he whakaarohanga mō ngā hua o te mahi. Kāre i te mārama he aha ngā here mai i ngā whāinga ki ngā here me te mahi. Ko tēnei tuhinga he pūrongo rapunga matai wheako kimi me pēhea e tika ai te whakahaere tikanga hei tautokohanga kaikōrero whakawaiwai tikanga-ā-iwi i Aotearoa. Ko ngā rangahautanga kei roto i te reo maha. Ko tōna tikanga he whakatau mahara, whakaaro, mahi whakawai hoki hai matapakihanga. Ko tāna koha ko te hono ki ngā whakawhitinga korero onamata e pā ana ki te whakahaere tikanga me te tikanga-ā-iwi, ā, ki te whakaara pātai titiro me pēhea e hono tahi ai te whakahaere tikanga me te tikanga-ā-iwi.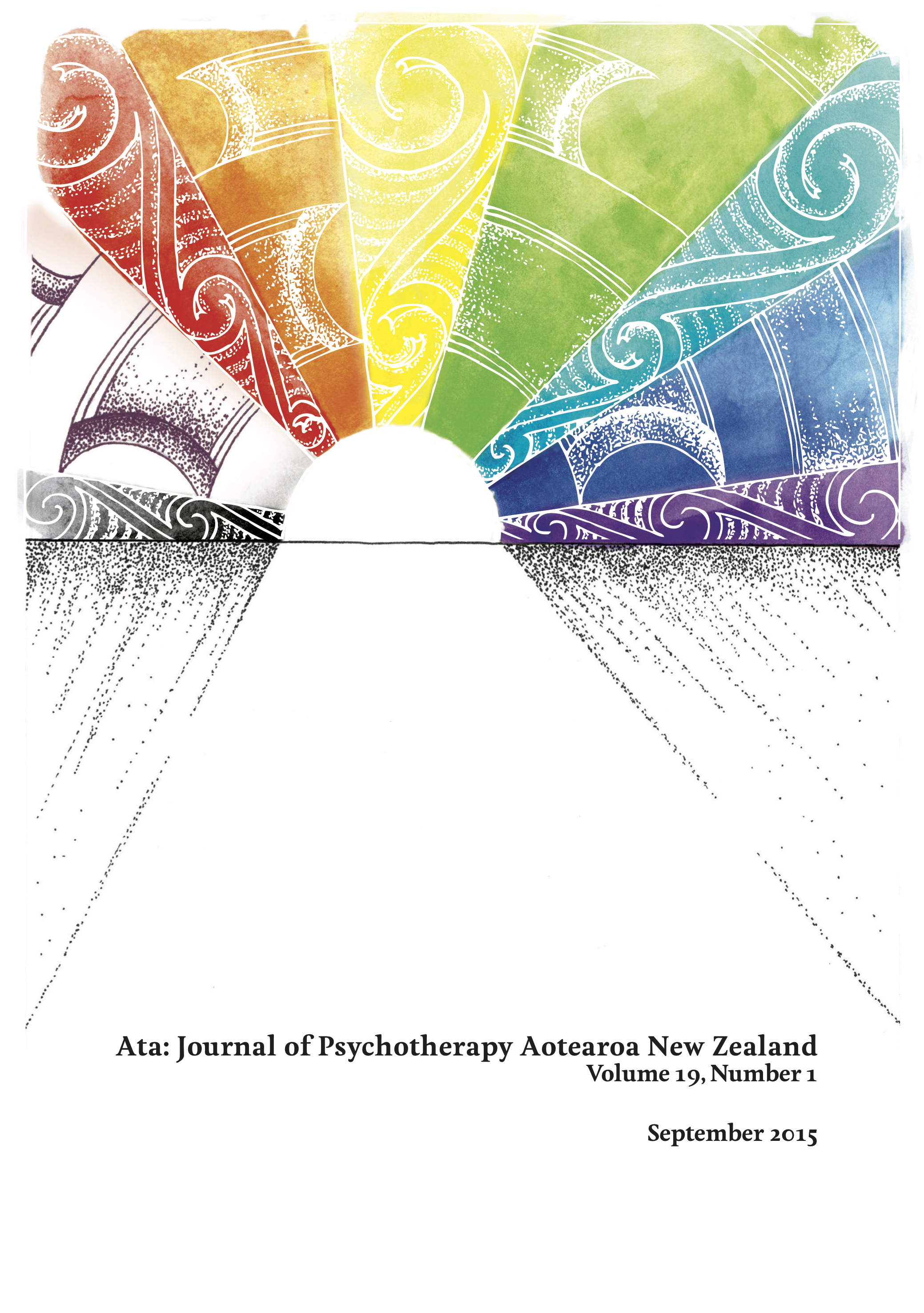 How to Cite
Crocket, K. (2015). Supervision as Cultural Partnership: Contributions to Dialogue. Ata: Journal of Psychotherapy Aotearoa New Zealand, 19(1), 67-81. https://doi.org/10.9791/ajpanz.2015.06
Copyright (c) 2015 Ata: Journal of Psychotherapy Aotearoa New Zealand
This work is licensed under a Creative Commons Attribution-NonCommercial 4.0 International License.