Feminine in Action
Keywords:
feminine, intuition, mindfulness, self-compassion, presence, right/left brain, story-telling
Abstract
"The feminine" is a philosophy, a style, a value system, which is at the centre of the way I work as a psychotherapist. In this paper I wish to share the practical applications of this approach in a group therapy setting with young women aged 16 to 23. As a psychotherapist and psychiatrist, I am well versed in the more masculine value system. I use concepts like transference and counter-transference, defence mechanisms, diagnostic criteria, and all the other ways of understanding what is happening in our therapeutic experience. Moreover, I teach a lot of these concepts. I am therefore not intending to devalue the usefulness of these theoretical concepts. It is much harder to define and bring into dialogue the values of the feminine. It is not a measurable concept that can be packaged in skills training or researched with placebo control studies and published in a scientific paper. In spite of that, I believe it is an important concept to introduce and to discuss in the psychotherapy world. In this paper I describe some clinical applications of the concept of the feminine in order to demonstrate its value to our work.
Whakarāpopotonga
He rapunga whakaaro, he kōpuratanga, he whakatakotoranga uara te uha, ā, pokapū tēnei ki te āhua o tāku mahi i aku mahi kaiwhakaora hinengaro. E hiahia ana au ki te tohatoha i ngā mahi haratau o tēnei momo mahi ki waenga i tētahi haumanau awheawhenga taitamāhine mai i te 16 ki te 23 nei ngā tau. Mai i ōku kaiwhakaora hinengaro, rata mate hinengaro, e tino mātau ana au ki te whakatakotoranga uara tānetanga. Mahia ai e au ngā tū āhua ariā pēnei i te whakawhiti me te awherangi whakawhiti, ngā momo waonga, te paearu whakatau mate, me ērā atu anō o ngā mātauranga whakamārama kei te aha ngā whakanekenekehanga o ō tātou wheako haumanu. Otirā, ākonga ai e au te maha o ēnei ariā, ā, me pēhea hoki e taea ai te whakaiti, te painga o ēnei ariā. He uaua kē atu te tautuhi uara taitamāhine ka whakauru mai ai ki ngā kōrero. Ehara i te ariā inea ka taea nei te tākai whakangungunga pukenga rangahaua rānei ki tētahi akomanga whakahaere tohipa ka tā ai ki tētahi pepa pūtaiao. Ahakoa tērā, e whakapono ana au he ariā whai tikanga hei whakamōhio hei aromatawai i roto i te ao whakaoranga hinengaro. E whakamārama ana au i ētahi ariā mahinga haumanu o te taitamāhine hai whakaatu i ōna uara ki ā tātou mahi.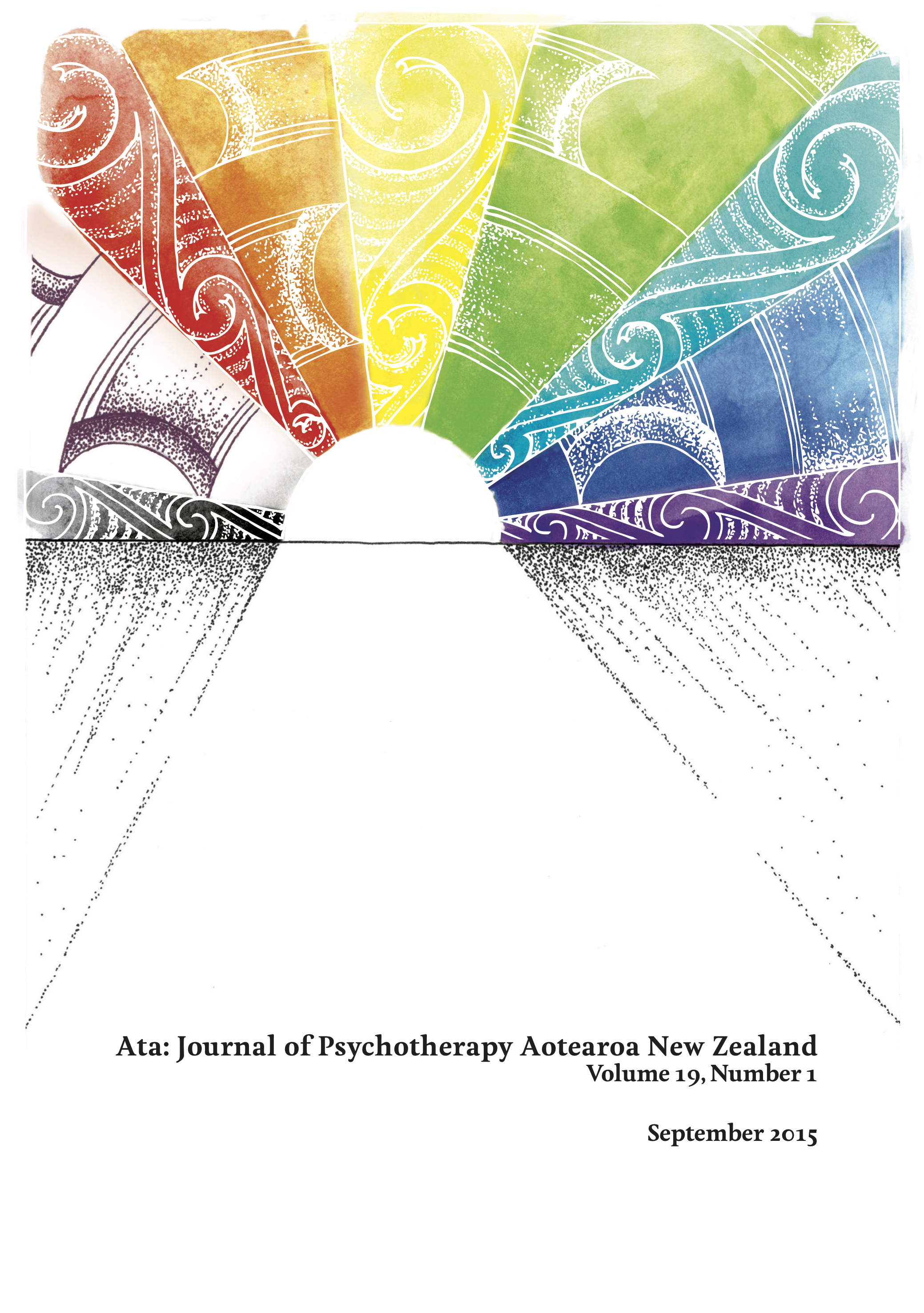 How to Cite
Roldan, F. (2015). Feminine in Action. Ata: Journal of Psychotherapy Aotearoa New Zealand, 19(1), 35-47. https://doi.org/10.9791/ajpanz.2015.04
Copyright (c) 2015 Ata: Journal of Psychotherapy Aotearoa New Zealand
This work is licensed under a Creative Commons Attribution-NonCommercial 4.0 International License.