Shifting Ground in Aotearoa New Zealand
A Psychoanalyst's View
Keywords:
biculturalism, cultural identity, Muslim/Arab, mourning, aggression, defence, inner tectonic plates, internal racism, sharī'ah law
Abstract
This paper contains the main points I made in my two keynote presentations to the New Zealand Association of Psychotherapy (NZAP) conference in April 2015. The theme of mourning, and especially facing the aggression involved in this process, runs through it. The first section describes my emotional experience when coming face to face with the devastation left by the Canterbury earthquakes, and I draw attention to the importance of mourning in freeing up the energies required to adapt and to rebuild. I draw attention to the scale of loss to be faced, and raise an anxiety that aggression mobilised by this process may be difficult to bear, and be displaced onto the long-term project of turning a monocultural profession into a bicultural entity that acknowledges explicitly that it exists in a country that is home to both Māori and Pākehā. The second section has two aims. Firstly, I provide a detailed clinical illustration of my work, which is located within the psychoanalytic tradition, in order to make explicit my conceptualisation of a patient's difficulties and show how these emerged in our work together. Secondly, I endeavour to show how difficult it is to integrate experience within a new cultural milieu alongside representations that stem from our original one — our "native" world of self and others. The patient I describe in my clinical example used her cultural difference as a defence — a deeply ingrained one — to protect herself from the pain of mourning and thus the possibility of moving on. I go on to discuss this material with special reference to its relevance for the development of the profession in a bicultural Aotearoa New Zealand.
Waitara
Kei tēnei tuhinga ngā aronga matua o ngā kauhau matua e rua i hoatu e au i te Wānanga a NZAP i te marama o Paenga-whāwhā 2015. Ko te tangihanga te kaupapa, inarā te whakarae i te riri i roto i tēnei tikanga. Ka whakaatahia aku wheako whaiaro i te kitenga ā kanohi i te parawhenua i whakarērea iho e ngā rū i Waitaha, ā ka whakaarohia ake te whai tikanga o te tangihanga hai tuku i ngā pūngao hei urutaunga hei whakahou. Ka huria ngā aronga ki te titiro ki te whānui o te paekura hai taki, te whakapikinga ake o te mānukanuka tērā pea ka uaua rawa te mau i te riri ka puea ake i tēnei mahi ā, ka waiho ki te taha ki te huring mahi akonga ahurea tūtahi ki tētahi mea kākanorua.E rua ngā whāinga o te wāhanga tuarua. Tuatahi, ko te whakaatanga whānui o taku mahi haumanu, te ture pū tātarihinengaronga, kia āta mārama ai taku whakaahuatanga o ngā raruraru o te hāura ka whāki ai i pēhea te putanga ake o ēnei i roto i ēnei mahi. Tuarua, ka nanaiore au ki te whakaatu i te uaua o te whakauru wheako ki roto i tētahi atu nohoanga ahurea i te taha o ngā tūnui o te ao toi waia o te whaiaro me ētahi atu. I whakamahia e te hāura whakaahuahia e au i roto i taku tauira haumanu tōna ahurea hai pākati — toka ana te mau — hei ārai i a ia mai i te mamae o te tangihanga, ā, tērā pea te haere whakamua. Ka tuhia tēnei kōrero me te huri ki tōna hāngaitanga mō te whakapakaritanga o te akonga i roto i te kākanotanga o Aotearoa.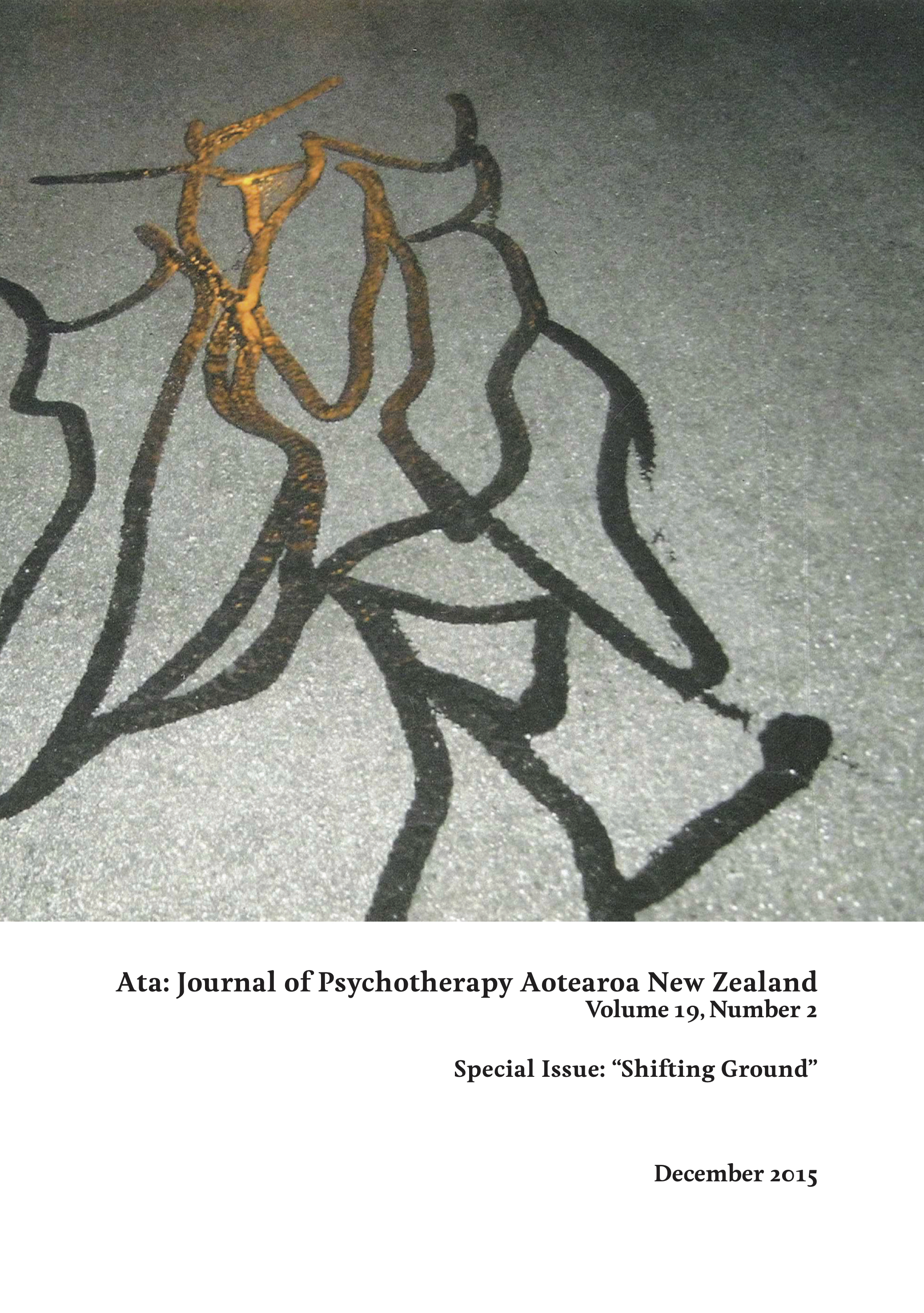 How to Cite
Davids, M. F. (2015). Shifting Ground in Aotearoa New Zealand: A Psychoanalyst's View. Ata: Journal of Psychotherapy Aotearoa New Zealand, 19(2), 103-116. https://doi.org/10.9791/ajpanz.2015.10
Copyright (c) 2015 Ata: Journal of Psychotherapy Aotearoa New Zealand
This work is licensed under a Creative Commons Attribution-NonCommercial 4.0 International License.