Internalised Racism
In the Client, the Therapist, and the Therapeutic Relationship
Keywords:
internalised racism, internalised oppression, racism, cross-cultural therapy, cross-racial therapy, white privilege
Abstract
This article identifies and explores how the internalised racism of racial minority clients is identified and treated clinically by white psychotherapists. Four psychotherapists, who selfidentified as "white", participated in semi-structured interviews, exploring their perceptions and understandings of how internalised racism and racism manifested within the clinical setting. The data from these interviews was analysed using thematic analysis and produced four main themes: manifestations of internalised racism and racism in therapy, disidentification, therapist's explicitness, and connection to culture. These themes were supported and anchored by four sub-themes. The themes represent a therapeutic process of: emergence, understanding, intervention and aim. The emergence of racism and internalised racism in therapy describes both the clients' and the psychotherapists' experiences of internalised racism and racism as it emerges in the therapeutic encounter. Dis-identification captures the psychotherapists' understanding of internalised racism operating as their minority clients' dis-identification with their racial and cultural heritage. Therapist's explicitness identifies a therapeutic intervention, the psychotherapist's communication to their minority clients about the racial differences between them. And finally, connection to culture captures the psychotherapist's therapeutic aim of encouraging a connection to racial and cultural heritage as a protective factor against racism and emotional and psychological difficulties.
Whakarāpopotonga
E tautuhi e tūhura ana tēnei tuhinga pēhea ai te tautuhi te whakaora a ngā kaiwhakaora hinengaro kirimā i te aukatinga iwi ā-roto o ngā kiritaki tokoiti. Tokowhā ngā kaiwhakaora hinengaro, whakatau "kirimā", i uru mai ki ngā uiuinga kōkau, e tūhura ana i ō rātau whakaaro, mātauranga hoki he pēhea te putanga mai o te aukatinga iwi ā-roto i waenga i te nōhanga haumanu. I whāia te aromatawaihanga kaupapa hai aromatawai i te raraunga o ēnei uiuinga, ā, e whā ngā kaupapa i puta ake: ngā tohu o te aukatinga iwi ā-roto me te aukati iwi i roto i te haumanu, te tuakiri-ui, te mārama o te kaihaumanu me te here ki te ahurea. E whā ngā kaupapa huiroto tuatoko, taunaki hoki i ēnei kaupapa. He kanohitanga ēnei kaupapa i te tukanga haumanu o te: pueatanga, te māramatanga, te whakaurutanga me te whāinga. Te pueatanga ake o te aukatinga iwi me te aukatinga iwi ā-roto i rō haumanutanga e whakaāhua ana i te whaiaro aukatinga iwi ā-roto me te aukatinga iwi hoki o te kiritaki rāuatahi ko te kaiwhakaora hinengaro i te wā haumanutanga. E mau ana i te tuakiri-ui te tirohanga a ngā kaiwhakaora hinengaro o te aukatinga iwi ā-roto whakamahia ai hai tuakiri-whakaui pānga iwi, tuakiri-whakaui ahurea o ō rātau kiritaki tokoiti. He whakaaturanga haumanu aukati te whakamārama koi ā ngā kaihaumanu, ko te whakatau a te kaiwhakaora hinengaro ki ā rātau kiritaki tokoiti mō te rerekētanga iwi i waenga i a rātau. I te mutunga, ko te here ki te ahurea e hopu ana i te whāinga haumanu ā te kaiwhakaora hinengaro, arā ki te whakatenatena herenga tuku iho ā-iwi, ā-ahurea hai mea haumarutanga atu i te aukatinga iwi, whakararutanga kare ā-roto, hinengaro.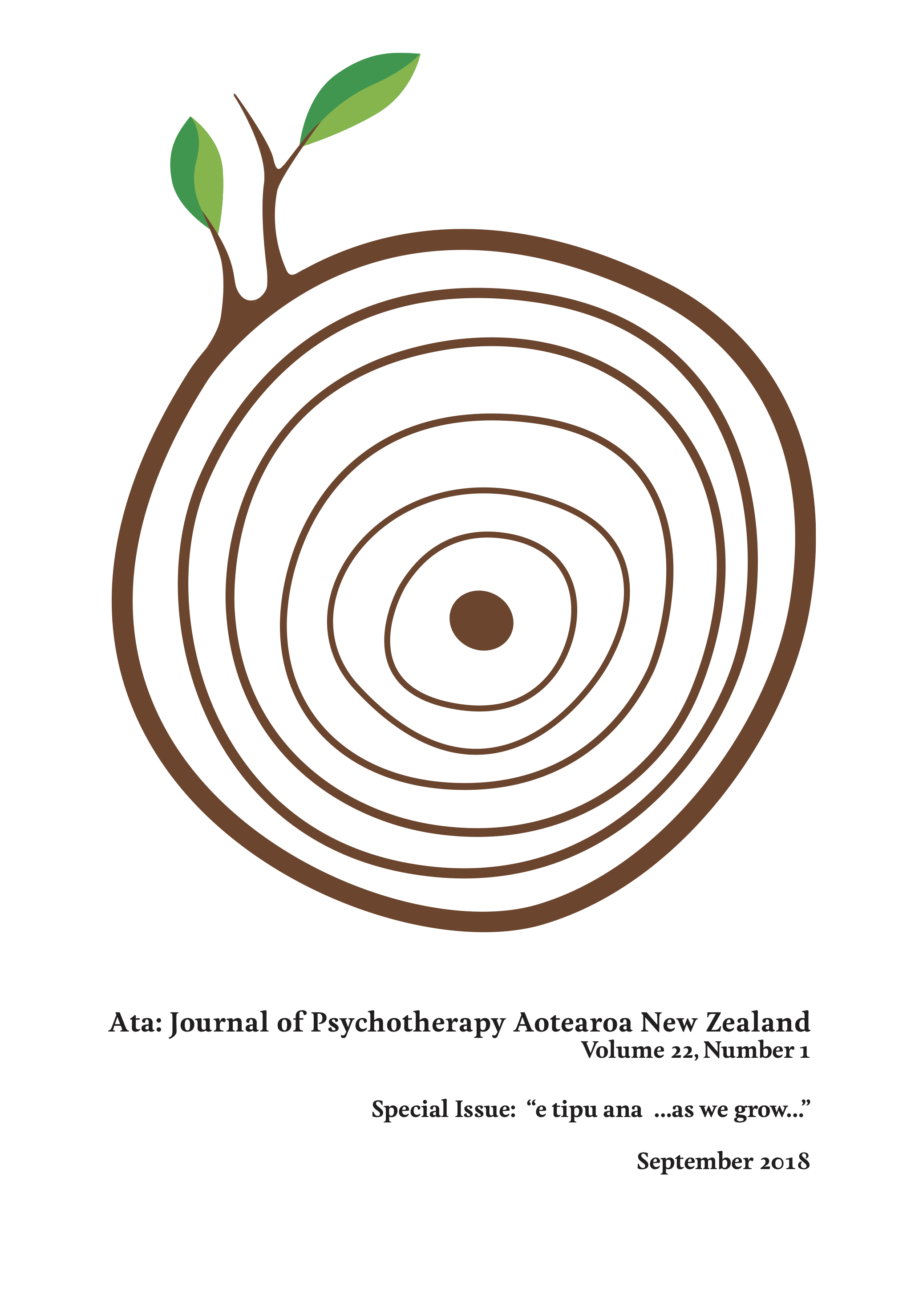 How to Cite
Ellis, E. (2018). Internalised Racism: In the Client, the Therapist, and the Therapeutic Relationship. Ata: Journal of Psychotherapy Aotearoa New Zealand, 22(1), 85-102. https://doi.org/10.9791/ajpanz.2018.07
Copyright (c) 2018 Ata: Journal of Psychotherapy Aotearoa New Zealand
This work is licensed under a Creative Commons Attribution-NonCommercial 4.0 International License.