Tutu Te Puehu and the Tears of Joseph
A Biblical and Indigenous Paradigm for Recovery From Trauma
Keywords:
Tutu te Puehu, Glen Tupuhi, trauma, Christian, Bible, Joseph, Indigenous healing
Abstract
A number of scholars acknowledge the rich resources contained within the wisdom, traditions and knowledge of Indigenous peoples for therapeutic healing. Repositories of collective ancient wisdom may well represent an underutilised resource for coping with challenges and trauma at the levels of both the individual and community. This article argues that the Bible is such a source as it contains a number of trauma narratives which can help in working with clients dealing with trauma. This article explores the Tutu te Puehu model proposed by Ngati Pāoa leader Glen Tupuhi. This Indigenous model that draws on the story of Joseph (Gen. 37–50), a biblical narrative that offers insights in terms of dealing with trauma and reconciliation, centred on the seven occasions that Joseph is said to weep. The model draws on the insights and the convergence of three distinct strands of Glen Tupuhi's training and experience: his knowledge of te ao Māori, his Christian spirituality and worldview, and his experience in the areas of justice and health.
Waitara
Tēnā ētahi mātauranga ka tautoko arā noa atu kē ngā rawa kai roto i ngā kōrero i ngā tikanga a ia iwi taketake hai haumanu whakaora. Ko ngā huinga kōputunga mātauranga taketake pea te tauria o te rawa kāre e mahia ana hai whakaora i ngā tumatuma i ngā pēhitanga o te tangata o te hāpori rānei. E whakahau ana tēnei tuhinga ko te paipera tētahi o ēnei rawa, ā, kai konei ngā kōrero whētuki ā, he whainga āwhina haumanu kai ēnei mō ngā kiritaki whētuki. E tūhurahia ana e tēnei tuhinga te tauira Tutū te Puehu i whakaputahia ake e Glen Tupuhi, he rangatira nō Ngāti Pāoa, he tauira māori i huri ki te waitara mō Hōhepa (Kēnehi 37–50), he kōrero tāpaenga titirohanga ki te momo pānga ki te whētuki me te noho tahi, pērā ki ngā wāhanga e whitu i kīia nei i tangi a Hōhepa. Ka whakahahakihia ake ngā mōhiotanga me ngā pūtahitanga o ngā io e toru whakangungu, whēako o Glen Tupuhi: tōna mātauranga o te ao Māori, tōna wairua Karaitiana tirohanga whānui ki te ao, me ngā whēako whaiaro mai i te ture me te hauora.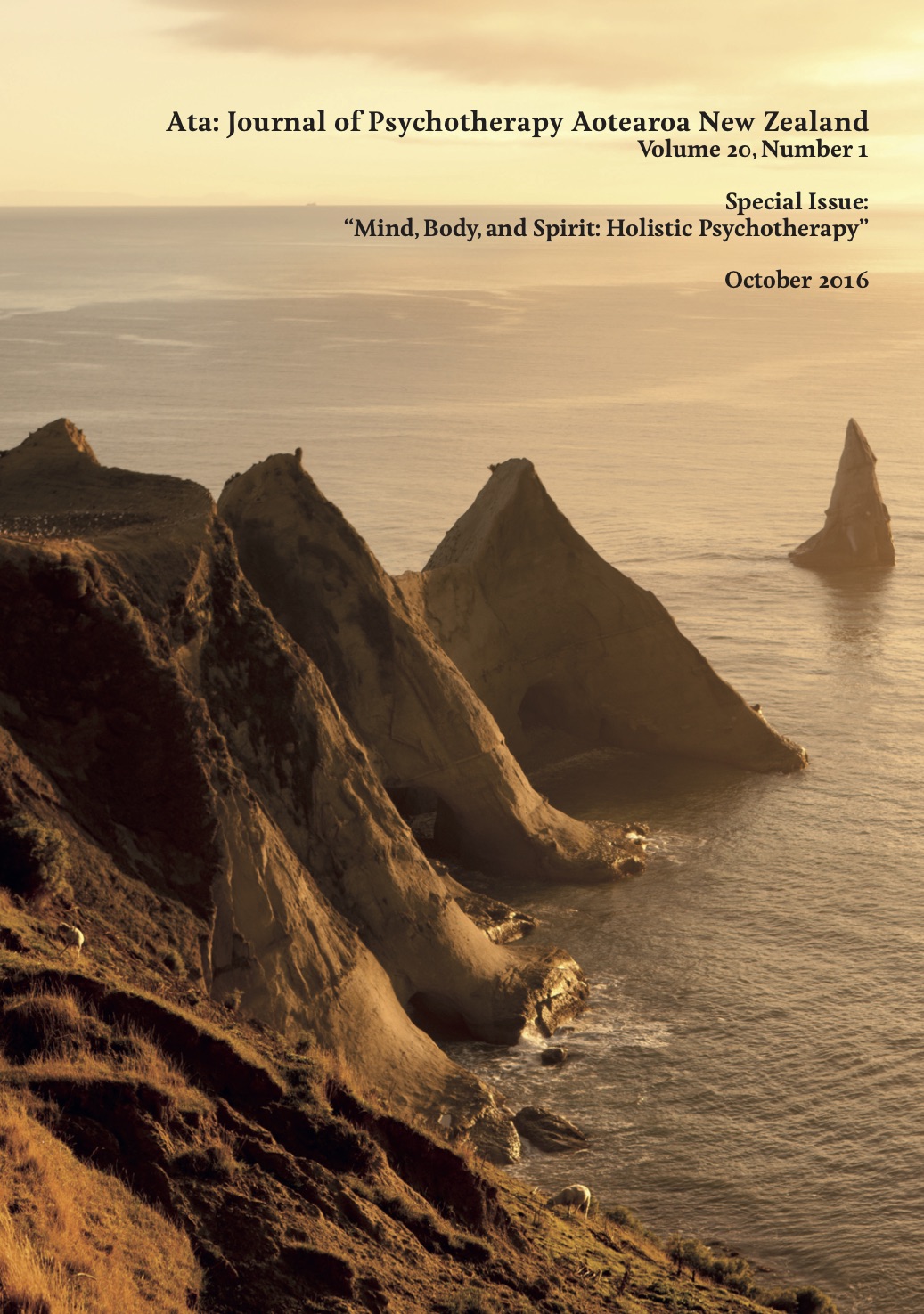 How to Cite
Moetara, S. (2016). Tutu Te Puehu and the Tears of Joseph: A Biblical and Indigenous Paradigm for Recovery From Trauma. Ata: Journal of Psychotherapy Aotearoa New Zealand, 20(1), 73-87. https://doi.org/10.9791/ajpanz.2016.07
Copyright (c) 2016 Ata: Journal of Psychotherapy Aotearoa New Zealand
This work is licensed under a Creative Commons Attribution-NonCommercial 4.0 International License.