"Not Home" is Sometimes Where we Start
Toni Shepherd

Wiremu Woodard
Keywords:
home, home-land, colonisation, Indigenous parenting, decolonisation, tangata whenua, state housing, raupatu, premature babies, spirituality
Abstract
The colonisation of "home" — Aotearoa, New Zealand is motivated by the acquisition of land and natural resources. As more land is acquired indigenous peoples are driven further from a symbiotic relationship with the "home-land", an indigenous worldview and ultimately their "selves". The consequences of these disruptions have profound psychological effects. This article explores the idea that "home" is a social construct that reflects the reality of the dominant group. As indigenous peoples our idea of "home" is repudiated and subjugated, resulting in dislocation, marginalisation and discrimination with the intention of maintaining the dominant cultural home. Weaving through concepts of Indigenous parenting, decolonisation, tangata whenua, state housing, raupatu, premature babies, maungapohatu and spirituality, we arrive at how we as health practitioners can unlock our therapeutic paradigm. The essential inclusion of historical, socio-political and environmental elements opens us to the possibility of clearly seeing indigenous psychological issues in their whole context rather than locating dysfunction within the indigenous person and marginalised peoples.
Ko te whakatauiwi o "kāinga" – Aotearoa, Niu Tīreni, ngana ana kia whai whenua, rawa taiao hoki. Ka rahi ake te whiwhi whenua ka tawhiti kē atu te tangata whenua i te taura here ki tōna tūrangawaewae, he tirohanga ā-ao a te tangata whenua, ā, mutu rawa ake, tōna tuakiritanga. Ko te mutunga mai o ēnei tauwhatinga ko te pānga taumaha ki te hinengaro. E tūhuri ana tēnei tuhinga i te whakaaro, ko te ariā "kāinga", he hangana hāpori whakaahua mai i te pono o te rōpū matua. Ko tā te tangata whenua whakaaro mō "kāinga", ka whakahahanihia, ka whakaitihia, ā, mutu rawa ake ka totara wāhi ruahia, ka aukatihia kia mārō ai te mau o te kāinga ahurea matua. E raranga haere ana i ngā aronga Māori whāngai tamariki, wetenga uruwhenua, tangata whenua, whare kāwanatanga, raupatu, pēpē kokoti tau, Maungapōhatu, me te wairuatanga, ka kitea me pēhea e taea ai e tātou e ngā kaimahi hauora te whakatuwhera i ā tātou tikanga whaiora. Mā te whakauru wāhanga mai o ngā kōrero o mua, o te hāpori- tōrangapū me te pūtaiao tērā pea ka mārama te kitea o ngā take hinengaro Māori i roto i tōna ake ao kāre e kimi noa ihotia te mate i roto i ngā tāngata whenua me ngā iwi taitapainga.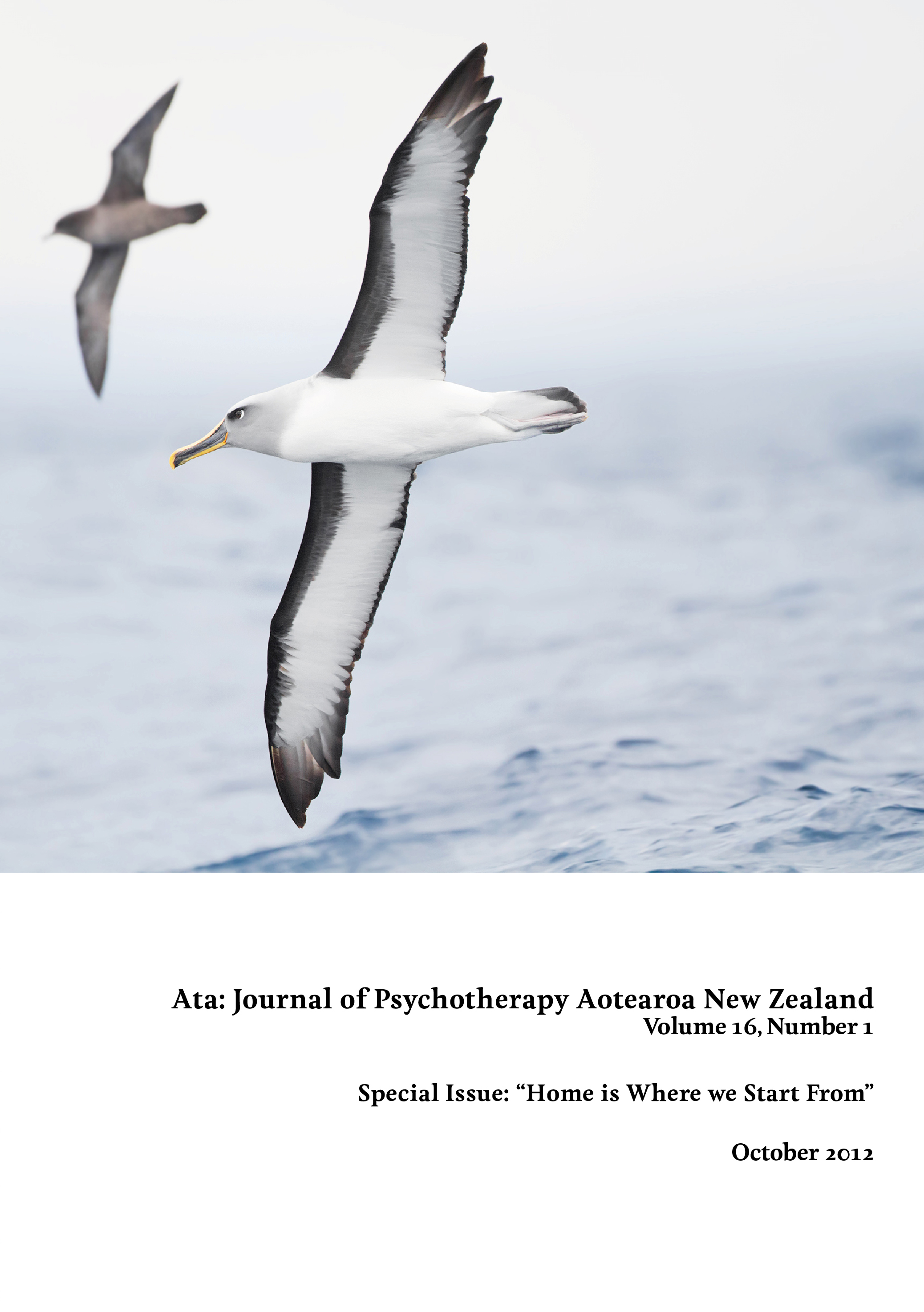 How to Cite
Shepherd, T., & Woodard, W. (2012). "Not Home" is Sometimes Where we Start. Ata: Journal of Psychotherapy Aotearoa New Zealand, 16(1), 51-71. https://doi.org/10.9791/ajpanz.2012.07