Clinical Hospitality
Welcoming the Face of the Devastated Other
Keywords:
hospitality, clinical hospitality, Other, Lévinas, Derrida, Ricœur, ethics
Abstract
Three French philosophers of the late twentieth century devoted themselves to the discourse of hospitality: Emmanuel Lévinas, Jacques Derrida, and Paul Ricœur. Here we mine their insights for understanding of what some are calling an "ethical turn" in contemporary psychoanalysis. In particular, we consider the impossible tensions between needs and limits, responsibilities and resources, in general and in the clinical situation, and the resulting necessity for mourning. From Lévinas we hear the demand of infinite and asymmetric responsibility to the widow, the orphan and the stranger who arrives unexpectedly to interrupt our comfortable life. My response to the other — who speaks the "do not kill me" word — constitutes my subjectivity. Lévinas took up the Talmudic discussion of the story of Abraham, who welcomed the three Arab strangers into his open tent, not knowing they were angels. Lévinas considered the necessity to limit, in practical terms, the unlimited responsibility that the face of the other brings. Clinicians know well the asymmetry of responsibility, the complexities of therapeutic situations, and our own actual limits. From Derrida we have the impossibility, the necessity and the enigma of this very demand. He addressed the incompatibility between the laws of normal hospitality and the absolute law of Lévinasian hospitality, without borders. He leaves the clinician, however, with irresolvable conundrums. From Ricœur we have the challenge toward an ethics of hospitable translation. He pointed to the work of dialogic understanding as a work of memory and of mourning, a work that can never be good enough but for which we can still be grateful. This paper locates these ethical challenges within and around the clinician's daily work, using these philosophers as reminders of the vocational aspects of a profession too often mired in the pressures to diagnose and prescribe, to evade and to murder, to totalize and to finalize. The clinician's work of restoring human dignity is the work of hospitality that these three philosophers sought to describe. This is the work of psychotherapy as a human science.
Waitara
Tokotoru tohunga matapaki Wīwī tōmuri mai o te rautau rua tekau i ngākau nui ki te matapaki i te kaupapa manaaki: Ko Emmanuel Lévinas, ko Jacques Derrida, ko Paul Ricœur. Ka hahua o rātou aroā mō tē mea e kīia nei he "huringa matatika" e ētahi kaitātari hinengaro o te wā. Tōtika te arohanga o te taukumenga i waenga i ngā wawata me ngā here, ngā mahi tōtika me ngā rauemi putuputu tae atu hoki ki ngā wā haumanu; tōna mutunga nei me tangi. Mai i a Lévinas ka rongo tātou i te whakahau kaitiaki mutunga kore me te whāioio tāwēwē ki te pouaru, te pani me te tauhou tae ohorere mai ki te whakapōrearea i ō tātou koiora maheni. Ko te whakautu ki tērā whaiaro ka whakaputa i te kupu "kaua au e patua" taku marautanga.. Ka kapoa ake e Lévinas te matapaki Iharaira o te korero mō Āperehama, nāna nei i pōhiri ngā Arapi tauhou tokotoru ki roto i tana pūroku kāhore nei i mōhio he ānahera rātou. Ka whakaaro a Lévinas i te tika kia herea, mēnā rā ka taea, te tuku noa atu i te tikanga whakaputahia mai e te kanohi o tētahi kē. E mōhio pai ana ngā kaimahi haumanu i te rerekē o ngā mahi kaitiaki, te uaua o ngā whaioranga pūāhua, me ō tātou ake here. Mai i a Derrida ka puta mai te tino taukore, te whakatau me te rerekētanga o tēnei tono. Ka aro ake ia ki te rangiruatanga i waenga i ngā tikanga manaaki me te tikanga manaaki a Lévinasian, tepe kore. Ka whakarērea mai e ia te kaimahi haumanu ki konā pōteretere haere noa iho ai. Mai i tā Ricœur ko te wero kia aro atu ki tētahi whakamāoritanga matatika manaaki. I tohu ia ki te mahi matapaki whakamātau he mahi whakamau whakaaro, whakamau tangi, ā, he mahi e kore nei e tae ki te taumata engari ma te aha ka noho whakamoemiti tonu tātou. Kei tēnei e noho ana ēnei wero matapaki huri noa i roto i waho o te mahi o ia rā a te kaihaumanu hei huringa atu ki ēnei tohunga whaikōrero hei whakamaumahara i te taha mahi mō tētahi rōpū kaimahi ōkawa e pokea rawahia ana e te mahi ki te whakatau mate ka whakatau rongoa ki te karo ki te kōhuru, ki te tapeke ki te whakaoti. Ko te mahi a te kaimahi haumanu ki te whakahoki rangatiratanga mai te mahi manaaki e whakaahuahia nei e ēnei tohunga tokoru. Koinei te mahi o te mahi hinengaro i te ao pūtaiao tangata.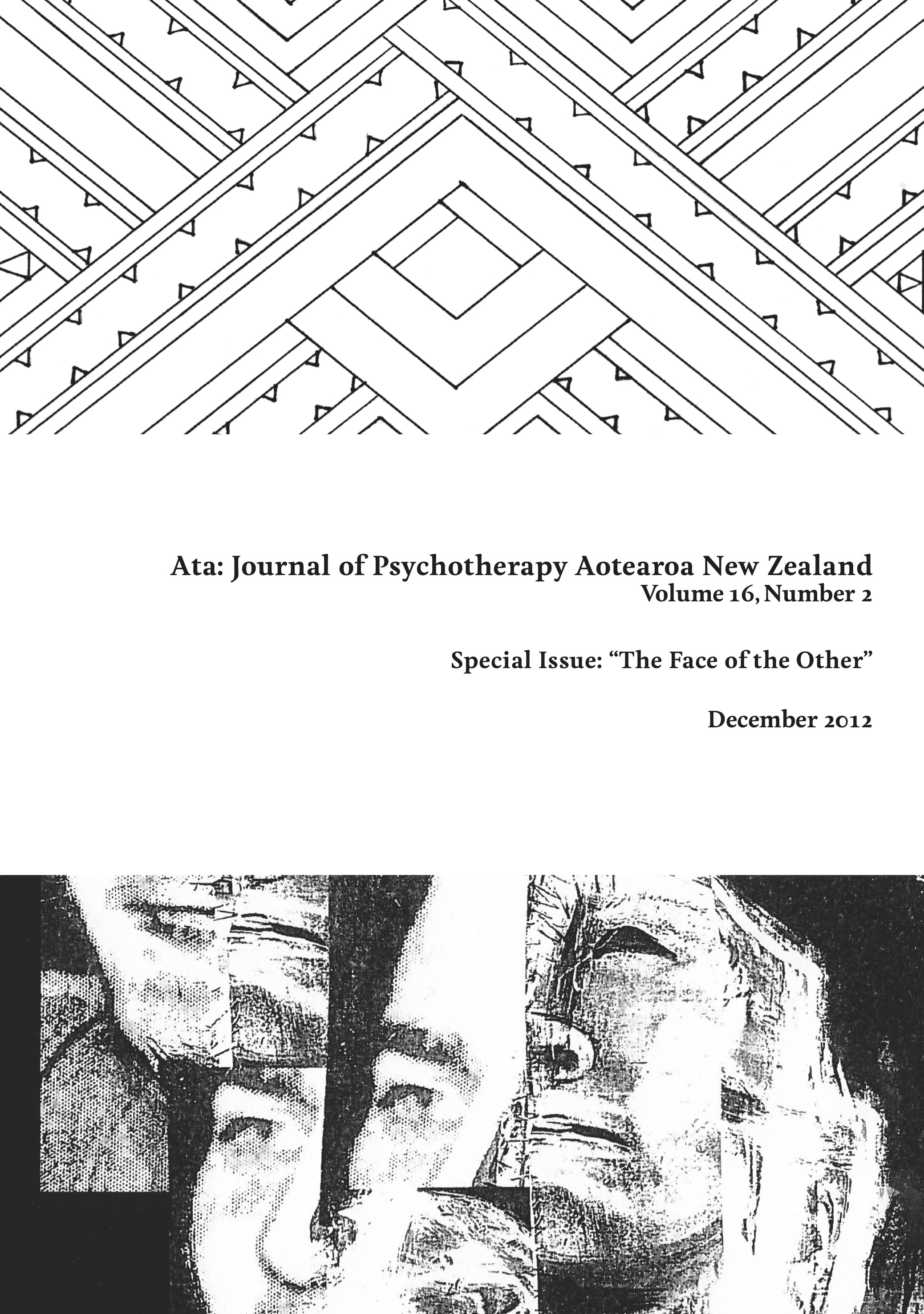 How to Cite
Orange, D. (2012). Clinical Hospitality: Welcoming the Face of the Devastated Other. Ata: Journal of Psychotherapy Aotearoa New Zealand, 16(2), 165-178. https://doi.org/10.9791/ajpanz.2012.17