LIQUIDITY OF FUTURES MARKETS OVER THE LAST QUARTER OF A CENTURY: TECHNOLOGY & MARKET STRUCTURE VERSUS ECONOMIC INFLUENCES
Luca Galati

University of Wollongong

Alex Frino

Alexander Webb
Abstract
This study examines the major technological and market forces that have acted on the liquidity of futures markets over almost the last quarter of a century – equivalent to Professor Robert Webb's tenor as Editor-in-Chief at the Journal of Futures Markets. We examine the impact of electronic trading replacing open outcry, the impact of high-frequency trading and co-located trading, compare the liquidity impacts of these developments with the impact of major economic events, including the Global Financial Crisis and Covid-19 Pandemic. Using a stock index futures contract traded on Australian futures exchanges as an example, we find that technological advances have had a statistically significant but almost imperceptible influence on measures of liquidity of Australian futures contracts. In contrast, economic crises, and crashes such as the Global Financial Crash and the Covid-19 crash have had a massive and sustained impact on the liquidity of futures markets. Our results suggest that liquidity effects from technological innovations, while important, remain dwarfed by those from extreme outlier events.
Downloads
Download data is not yet available.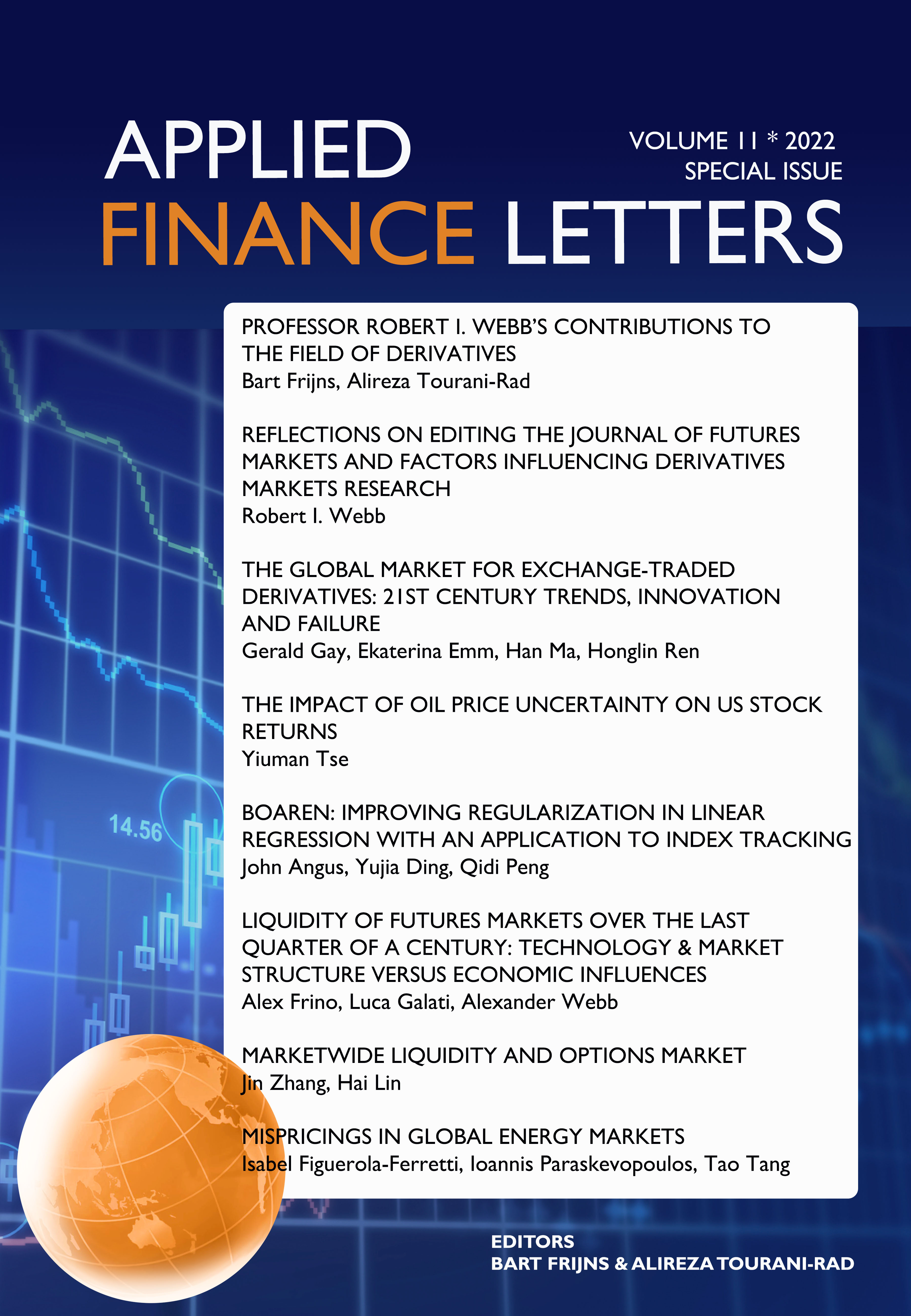 How to Cite
Galati, L., Frino, A., & Webb, A. (2022). LIQUIDITY OF FUTURES MARKETS OVER THE LAST QUARTER OF A CENTURY: TECHNOLOGY & MARKET STRUCTURE VERSUS ECONOMIC INFLUENCES. Applied Finance Letters, 11(1), 52 - 65. https://doi.org/10.24135/afl.v11i1.547
Copyright (c) 2022 Luca Galati, Alex Frino, Alexander Webb
This work is licensed under a Creative Commons Attribution-NonCommercial-NoDerivatives 4.0 International License.
Authors submitting articles for publication warrant that the work is not an infringement of any existing copyright and will indemnify the publisher against any breach of such warranty. By publishing in Applied Finance Letters, the author(s) retain copyright but agree to the dissemination of their work through Applied Finance Letters.
By publishing in Applied Finance Letters, the authors grant the Journal a Creative Commons nonexclusive worldwide license (CC-BY-NC-ND: Creative Commons Attribution-NonCommercial-NoDerivatives 4.0 International License) for electronic dissemination of the article via the Internet, and, a nonexclusive right to license others to reproduce, republish, transmit, and distribute the content of the journal. The authors grant the Journal the right to transfer content (without changing it), to any medium or format necessary for the purpose of preservation.
Authors agree that the Journal will not be liable for any damages, costs, or losses whatsoever arising in any circumstances from its services, including damages arising from the breakdown of technology and difficulties with access.