Effect of Perception Differences in Money Communication Between Parent-Adolescents on Financial Autonomy: An Experimental Study Using Financial Education Workshops
Harsha Vijaykumar Jariwala

IES Management College and Research Centre, Bandra, Mumbai
Abstract
This study evaluates the effect of parent-child money communication on financial autonomy of the adolescents by considering the gender of the parent as a controlled variable by utilizing pre- and post- survey based experimental research design. The sample consisted of 300 female parents and their children under adolescence stage of life. Assuming that claim is often made by parents regarding their frequent money communication with their children, their children were asked to rate their perception towards parent's money communication with them.  Later, their female parent (mother) were invited for financial education workshops series and asked to complete pre-survey before they attended the first financial education workshop. The follow-up survey was done for female parents and their adolescent children six months after completion of the financial education workshop series. In both the surveys, 300 responses were collected from female parents and adolescents on nineteen pairs of money communication, wherein parents were not told that their children were also asked to rate the matching pair of each item of parent money communication scale and vice versa. The financial autonomy was measured by using pre- and post- surveys, wherein only adolescents participated in the surveys. The results of paired t-test provides noticeable conclusion that financial education given to the parent positively enhances money communication among parent-adolescent by reducing the disparity in the responses collected from the parents and adolescents on each matched pairs separately and collectively and this reduced disparity leads to enhance the financial autonomy of the adolescents. The findings may help policy makers and financial educators to design and implement such workshops which may open lines of "money communication" between parents and children.
Key words: financial education workshops, parent-adolescent money communication, financial autonomy.
Downloads
Download data is not yet available.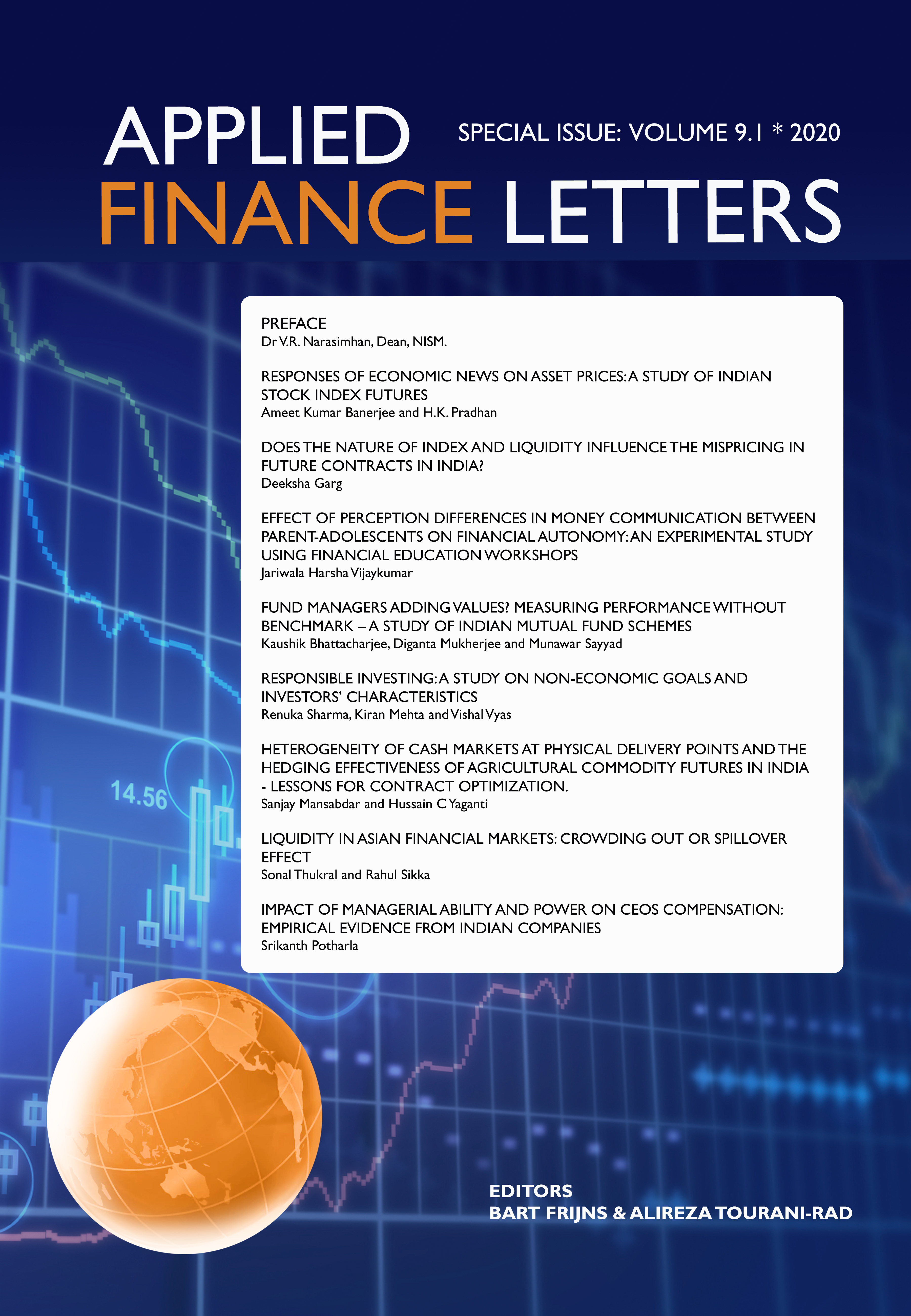 How to Cite
Jariwala, H. V. (2020). Effect of Perception Differences in Money Communication Between Parent-Adolescents on Financial Autonomy: An Experimental Study Using Financial Education Workshops. Applied Finance Letters, 9(SI), 23-43. https://doi.org/10.24135/afl.v9i2.241
Copyright (c) 2020 Harsha Vijaykumar Jariwala
This work is licensed under a Creative Commons Attribution-NonCommercial-NoDerivatives 4.0 International License.
Authors submitting articles for publication warrant that the work is not an infringement of any existing copyright and will indemnify the publisher against any breach of such warranty. By publishing in Applied Finance Letters, the author(s) retain copyright but agree to the dissemination of their work through Applied Finance Letters.
By publishing in Applied Finance Letters, the authors grant the Journal a Creative Commons nonexclusive worldwide license (CC-BY-NC-ND: Creative Commons Attribution-NonCommercial-NoDerivatives 4.0 International License) for electronic dissemination of the article via the Internet, and, a nonexclusive right to license others to reproduce, republish, transmit, and distribute the content of the journal. The authors grant the Journal the right to transfer content (without changing it), to any medium or format necessary for the purpose of preservation.
Authors agree that the Journal will not be liable for any damages, costs, or losses whatsoever arising in any circumstances from its services, including damages arising from the breakdown of technology and difficulties with access.